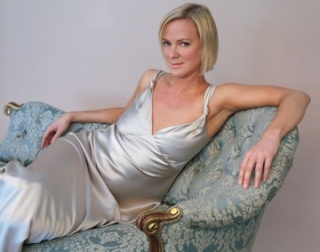 -THE CREATOR-
(Amy Collins Armâge)
-THE FACTS-
Full Name: Nora Jane Haskell
Custom Title: Collinsport's Loving Mother to a Fisherman
Age: 46
Gender: Female
Social Status: Mortal
Occupation: Ex: secretary
Relationship Status: Married to Zachary Haskell
-THE IMAGE-
Appearance: Nora is a tall sophisticated lady with short blonde hair light blues. She is think trying to remain in shape when possible all the while impressing her husband.
Clothing Style: Blouses with skirts generally or simple dresses for social events.
Height: 5'7"
-THE PAST-
Birthplace: Richmond, Virginia
Date of Birth: 29 September 1924
Family: Nora was born into a small family of three, being the eldest of two sisters, Rachel and Molly. Having gotten along well with her sisters, just a few years behind her, the three grew up with their Father Douglas and Martha Janssen who divorced shortly after Nora's 12th birthday.
History: Being brought up in a small town just outside of Richmond Nora had an easily life doing as her family wished in abiding the family until later moving to Baltimore because of her father's work. As the change was difficult for her and her sisters, she happily managed to find a job quickly after graduating school and working as a secretary for years. In earlier life she met Zachary Haskell falling instantly in love then raising there child Skyler Haskell.
-THE PERSON-
Personality: Nora is a simple abiding woman wanting what's best for her family. She is kind considerate and expects the same in individuals around her.
Dislikes: Distrusting persons against her wants and desires for her family
Overall Flaws: selfishness
Ideal Weapon: cunning personality
~
RPG Sample: Trying very hard to get over the fact that her son Skyler is already having children, Nora Haskell a quiet beloved wife to Zachary for many years, gazed out into the busy streets listening to her husband talk. "I think it would have been a good idea Zach there's not telling what this family would expect when we arrive. Shaking off the thought going to a cabinet pouring a drink, Nora passed him one, "I just wish they would have gotten married before this baby arrives was my concern...but I'm sure these Collins have there ways." Approaching book that was left out with the history of the place, Nora thumbed through everything that was written. "Well it is nice Skyler will be marrying into class. Has he been keeping yup with Joe you suppose? I knew he worked along side of him but Skyler doesn't mention him much."
"The love of a family is life's greatest blessing"

Nora Haskell

Condemned For Witchcraft







---
Permissions in this forum:
You
cannot
reply to topics in this forum