Coming home after their first chaotic night of college, Simon and Vladimir came into the drawing room, both sinking down on the sofa, exhausted. Putting his arms behind his head as he stretched his legs out in front of him with Vlad doing nearly the same, Simon turned his head then as the rest of the family came into the room to find out about their night. Being the first to mention all of the things that happened, such his embarrassment in class as well as Vladimir's trouble in the bathroom, Simon then changed subjects to a particular project that Vlad and Simon were responsible for working together on. "We have to make a small model of something mechanical as well as make a poster and present it to the class," Simon spoke, with a sigh. "I don't know . . . but posters aren't really our thing," he moaned, turning then to Cecillia who was standing beside Syerren. "Say, how about you two creative geniuses do it for us? What do you say Vlad . . . it's the best idea ever right?"

Simon Smith

Leviathan Attack






Seeing Vladimir was in no mood to even think about what went on this evening, Syerren laughed slightly sitting next to him, "Was it really that bad, Brother?" Feeling there wasn't anyway out of talking about the night, Vlad glanced towards him, "Yeah it was rough and dull especially but . . ." the glared to Simon then Cecillia, "Do you think you could help with the project?" Looking to Cecillia who seemed excited, Syerren nodded, "I'm sure we'll be happy to help, Vlad. What machine are you going to be building a model of?"

Only now thinking about what the two were going to build Vladimir shrugged glancing at Simon, "Well since we're in here primarily for automobiles, I suppose we'll be doing that. What do you think Simon?"

"My Brother is my friend, my companion, what fun we have, what times we share with childhood
memories and grown-up dreams, Brothers from the beginning, Brothers till the end."

Syerren Armâge

Possessed By Quentin






"I think that that's as good of an idea as any," Simon smirked with a wink, turning to Cecillia and Syerren. "But only if you two take care of the fancy work for us. That sorta stuff, again, just isn't up our alley," he spoke. "It's gotta be done in two days though so you two better get to working on the poster. I would hate for Vladimir and I to get a shitty grade just because we don't have a poster." Laughing then, he stood up. "I'm just fuckin with you; you two can do it whenever you want, I don't think either of us are in any hurry to get our homework done." Grabbing Cecillia's hand, Simon then pulled her from the chair. "Now if you two gentlemen would excuse us, I have a little . . . unfinished business to take care of," then vanished from the room with Cecillia.

Simon Smith

Leviathan Attack






Smirking then making himself more comfortable on the couch, Vladimir shook his head, "Oh . . . that Simon. He'd do anything to satisfy his desires." then glanced towards his brother. "Where is Amy tonight, Syerr?" Raising his head he stared, "Amy . . . she's out . . . Collinwood or to Bangor I believe." "Of course . . ."

All the while not completely satisfied with Vladimir and Simon's description of the evening, Syerren questioned, "Are you sure the course is going alright?" Taking a deep sigh, Vlad shook his head, "No to be honest. I can tell you I much I dread going back. I'm sure Simon is the same way; however, in our . . . lavatory experience that Simon explained I did run into a familiar bloke." "Did you, brother?" Adjusting from the couch he smirked, "Yeah . . . none other then your look alike, David Burns."

Widening his eyes then feeling tense throughout his body, he turned away. "I see." Laughing from his sudden change, Vlad leaned closer to him. "You know he's not so bad and believe me looks up to you." Rolling his eyes he scuffed, "Well . . . so what." "Well don't fret, he's not asking from you. Now enough of this" he stood slapping his shoulder, "let us continue our evening." guiding his brother out of the parlour to further enjoy the night.

~End Scene~

"I would rather spend one life time with you then go on having to face all the ages of this world alone. "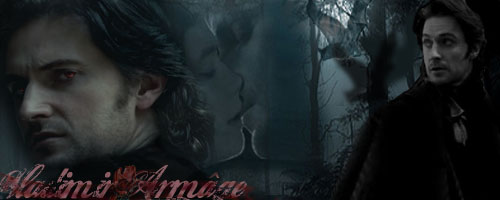 Vladimir Armâge

Possessed By Quentin







Similar topics
---
Permissions in this forum:
You
cannot
reply to topics in this forum