As the day dwindled into the evening, Vladimir and Syerren awoke to live again. Sitting up from his coffin, Vlad leaned over putting pressure on his chest. Bewildered by it, he glanced at his chest realizing he still had pain where the tree branch impacted him. Syerren having only taken note that his brother was still in his coffin glared, "What's wrong? Do you need . . ." Vlad cut him off, "No . . . I'll be fine, just a slight ache, I'm sure will go away" then got out of his coffin. "Vlad, about last night. . ." Smiling he patted his shoulder, "We'll think nothing of it more, Syerr. Come on."

As the two went upstairs and went through the iron door, almost instantly Vladimir's name was heard. Responding to Amy's voice, he saw she appeared from the hall approaching them both with Cecillia following behind. "I want a word with you . . ." Scuffing slightly, Vlad glared, "Already?" glanced back at Syerren then back, "Not even an evening kiss from your husband?"

Ignoring his sweet talk, Amy cocked her head slightly, "Exactly what happened last night?" "What . . . what do you mean," Vlad answered, glancing to Syerren while turning his back to her. "Sheriff Patterson was here this morning." "The sheriff," both brothers exclaimed. "What did he . . . want Amy?" Syerren questioned.

"Apparently they found Simon's car in a terrible state just outside of town with no traces of bodies and a blood stain." Taking a deep breath, Vladimir nodded, "Dear . . . I don't know how to explain it . . ." Turning then his head up as Simon entered the room, Vlad manoeuvred towards him. "Simon . . ." he exclaimed leaving the girls clueless, "exactly what did you tell them?"

"I would rather spend one life time with you then go on having to face all the ages of this world alone. "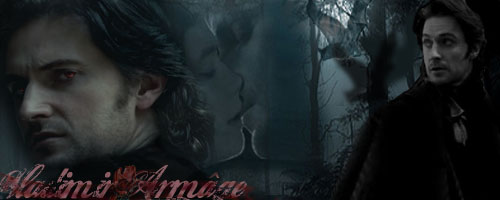 Vladimir Armâge

Possessed By Quentin






"I didn't tell them anything," Simon protested, going to Vladimir. "I'm not going to get wrapped up into mess Vladimir!" Glaring back at Amy and Cecillia. "You really want to know what happened? Will that make you two sleep any better at night? Then to hell with it . . . I'll tell you. I got drunk, I ran the car into the tree, nearly killed Vladimir, and then fled the scene of the accident to avoid jail. I fucked up and I'm fucking sorry so if you two will please stop going around and playing detective then perhaps we can just forget about it." Giving everyone one final glare, Simon then brushed past everyone, going into the drawing room and sitting down on the sofa.

Simon Smith

Leviathan Attack






The room soon remained quiet after Simon's outburst of revealing what had happened, Amy stared at the men, "Is this true?  Do you not know how incredibly dangerous that was? Let alone the chances of all of you being exposed?"

Sighing deeply, Vladimir grabbed a hold of her, "Amy everything is fine."  "And what was this about you being almost destroyed?"
Syerren moving in beside Amy spoke for him, "Dear he's fine . . . he got hurt yes but no real harm." Vlad then shook it off, "Simon is right, we just need to forget about this."  Lowering her head Amy looked away, "I don't know how much forgetting we can do about this . . .  the sheriff is expected to return and to have word with all three of you of the incident."  Vlad thinking of the problem soon shrugged it off moving towards the drawing room sitting at the arm chair, "So we tell him nothing . . . we weren't involved and I don't know give the guilt to some . . . creep."  Ignoring the stare from his brother, Vlad leaned back grinning putting his hands behind his head, "It's not like we haven't pulled off crimes before."
Last edited by Amy Collins Armâge on 22nd August 2012, 00:28; edited 1 time in total

Amy Collins Armâge

Makeup Crew






Rushing into the drawing room, Cecillia ran to Simon, slapping him. "This is not okay!" she screamed, looking at Vladimir too. "You two . . . aren't going to just sit around and lie about it all and blame it on someone else! You could have been hurt or even killed, and you're taking it like a joking matter?" Turning around to Syerren, who had remained rather quiet, Cecillia took his arm. "I want you to help make this all be right Syerren," she said, grabbing his hands. "I trust you, and I know that if anyone here has their head screwed on right, it's you."
Ƹ̵̡Ӝ̵̨̄Ʒ
ღஜ
Every inch of you is perfect from the bottom to the top
Ƹ̵̡Ӝ̵̨̄Ʒ
ღஜ

Cecillia Collins Smith

Makeup Crew






"Me," Syerren questioned feeling tense that the pressure was put on him, "what could I do? I hardly remember the incident as it happened so quickly." "So . . . join Simon and me then Brother that nothing is wrong," Vlad spoke. Shaking his head, Syerren approached the two. "No . . . you must take action for your faults. You especially, Simon; the police are getting more intelligent and I'm sure soon it would be hard to pull of something like this." Hearing a scuff and laugh from both Vlad and Simon, Syerren turned around hearing Vlad speak remaining in position. "Don't forget who we are Syerr . . . making mystery and wonder is our forte." "It's still not right. You could have been destroyed brother, if that branch hit you more in the center. I'm sure we all just don't want to see anyone get hurt." Sighing sitting up straight Vlad then glared, "Well what do suppose we do?" Shrugging Syerren glanced towards Cecillia. "I'm not sure."
"My Brother is my friend, my companion, what fun we have, what times we share with childhood
memories and grown-up dreams, Brothers from the beginning, Brothers till the end."

Syerren Armâge

Possessed By Quentin






"You're just going to have to tell the sheriff what he wants to hear," Cecillia spoke, standing beside Amy. "Don't get other people into trouble, and don't have him have reason to keep coming back around and ask questions. Just do whatever it takes, within reason, to honestly get him satisfied." Going to Simon, she then brushed his arm. "And if you do well, then perhaps you will get your way tonight," she smiled. Simon, glaring then at Vlad, shrugged. "I have no idea what to tell him, do you two?"
Ƹ̵̡Ӝ̵̨̄Ʒ
ღஜ
Every inch of you is perfect from the bottom to the top
Ƹ̵̡Ӝ̵̨̄Ʒ
ღஜ

Cecillia Collins Smith

Makeup Crew






Having enough of this constant talk, Vladimir stood from the chair and glared towards Cecillia with Simon. "I don't know at this moment; however . . ." he went over to Syerren whispering in his ear as he pulled back giving an uncertain look. Whispering again, he then sighed then nodded. Happy he agreed, Vlad looked back as Amy approached them. "Just what are you two planning?" "Think nothing of it my dear," Vlad smiled leaning quickly towards her kissing her then pulled back and the two brothers vanished from the room. Noticing the two on the couch watched the siblings behaviour, Amy walked over towards them . . . "I love that Vladimir is doing everything he can to help you but Simon . . . perhaps you could go and . . ." seeing before she finished him stand and leave, Amy fell to the couch all the while hoping the sheriff wouldn't arrive to a house with no suspects.

~End Scene~

"I would rather spend one life time with you then go on having to face all the ages of this world alone. "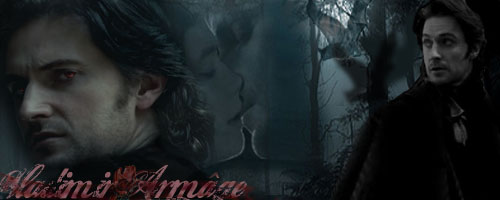 Vladimir Armâge

Possessed By Quentin







Similar topics
---
Permissions in this forum:
You
cannot
reply to topics in this forum