After sleeping alone the night before, and only having been up for around four or five hours, Simon felt in the dog house as the women gave him countless tasks to complete around the house to make up for his rude behavior the night before. Knowing he deserved the punishment, but wishing everyone would cut him a break, as he really couldn't control his actions once he was drunk, he still obeyed them.

Taking a load of boxes down to the basement for Amy, Simon then started back up, but stopped by Vlad and Syerren's coffins, getting ghoulish ideas in his head. Laughing to himself, he opened Vladimir's coffin, glaring down at him. "You might have gotten back at me last night, but now it's my turn to get back at you," he murmured, glancing around the room and finding a can of water based paint which had been used for some craft and then dumped down in the basement out of site. Opening the can of black paint, he then returned to Vladimir's side. Sticking his finger in it, sopping up the liquid, Simon then brought his finger down to Vladimir's upper lip, beginning to paint a handlebar mustache on him.

Laughing, he continued blackening his eyes and other areas, then went over to Syerren's coffin, opening it and setting the paint down inside, then sticking Syerren's hand down inside the paint, making it look as if he had painted Vladimir. Satisfied with his prank, he quickly closed both coffins back up and ran back upstairs, knowing that before long both brothers would awake to this prank.

Simon Smith

Leviathan Attack






It wasn't much long till dusk then night had fallen when Vladimir awaking first began to feel something was different about him. Ignoring it at first, he got out of his coffin then rubbed his eyes find black paint. "What the hell is this," he questioned aloud seeing Syerren only began opening his coffin. Sitting up then looking at his brother, he immediately burst out laughing from what Simon had drawn on Vlad. "What what's so funny . . ." he questioned still trying to get the paint off his eyes and cheek. "If only you could look at yourself brother. . ." he laughed then looked down at his coffin then hand finding he too had paint on himself. "Just what is going on here?" Soon putting the pieces together, Vlad glared at him, "You did this Syerr?"

"Me, how could I? I was dead asleep like everyday and I would never play such a trick. I bet we were set up!" Nodding the two turned as laughter was heard behind the stairs and Simon immerged. "Simon . . . you did this?" Vlad glared at him, while being passed a handkerchief. "Honestly, playing a trick on the dead is rotten."

"I would rather spend one life time with you then go on having to face all the ages of this world alone. "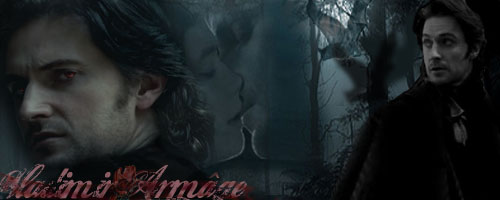 Vladimir Armâge

Possessed By Quentin






"I should say!" Simon exclaimed. "I recall you playing tricks on me while I was drunk last night, so let's just say we both are now even, he grinned, patting Vlad and then Syerren on the backs. "So you two, how about we have a great night out and um . . . let's not cause any arguments or fights or whatever. And I apologize for last night. Trust me, the women have been using me as a slave for as long as I've been awake, so I feel like I've had my fair share of punishment." Seeing a look in Vlad's eyes that he wasn't so sure, Simon shrugged. "Well only time will tell if I do it again or not, but hopefully I don't, right?"

Simon Smith

Leviathan Attack






Vladimir and Syerren looked at each other unsure like as Simon stated the idea of going out.  Looking back to Simon, Vlad responded, "Simon, I think we can all agree if it's best that we stay into night." Seeing Simon express a look of shock, he smiled, having Syerren help wiping off the last of the paint. "You must realize Simon that your wife misses you as yourself and I'm sure would want nothing more then to spend one night with out alcohol."

Syerren agreeing discarding the towel, "You should realize Simon the mess you caused last night from your drinking habits.  We wouldn't want something like that happening again." Nodding, Vlad narrowed his eyes, "Come on mate what do you say.  Believe me we have an eternity of drinking nights for sure."
"I would rather spend one life time with you then go on having to face all the ages of this world alone. "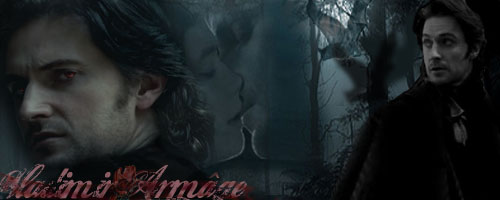 Vladimir Armâge

Possessed By Quentin






Sighing, Simon agreed. "But only if I can still devour what's left of the liquor cabinet upstairs at my free will. But I promise, no going out." Seeing a smile from both men, Simon shrugged, taking in a deep breath. "Talking to you two about this is the easy part. I don't know how to ever apologize to Cecillia, I suppose that's why I just keep wanting to go mess up over and over, so that I never have to apologize." Walking over to the stairs, Simon started to go up, but then stopped, looking down at Vladimir behind him. "Are you sure you don't want to go out just to a club or something? I mean I don't have to drink that much . . . maybe just a bit."

Simon Smith

Leviathan Attack






"Simon," Vladimir began then laughed slightly pushing him upstairs, "nothing would give me more pleasure then for us to remain home tonight. Now we already promised you could have the liquor here but I'm afraid the only women we will see tonight are the ones we most treasure." As the three went upstairs, they were surprised in not finding a soul in the drawing room. "Where is everyone?" Syerren questioned as Vlad approached the stairs, "I'll check upstairs but you Syerr, keep an eye on him. Make sure he doesn't leave."

Nodding to the command seeing Simon over look the liquor, Syerren narrowed his eyes and leaned on a column, "Simon really what is your desire to go out all the time and spend so much time and money away. I . . . I mean don't you love Cecillia? I'm sure you do but soon you'll take on another role as a Father and . . . I don't know you wouldn't want your child looking up to you and your habits would you?"

"I would rather spend one life time with you then go on having to face all the ages of this world alone. "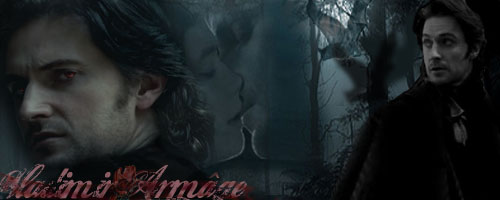 Vladimir Armâge

Possessed By Quentin






"I'm simply happy Syerren; can't a man my age be happy? We all have our nasty little habits which probably don't look like much to others, but even though we should probably kick them, we don't. Sometimes it's simply unfavorable to kick a bad habit, because you're afraid that you'll be bored without it. Or, in my case, you're afraid you'll seem boring to others without it. I know that my actions affect others, but I think I'm just too hardheaded to do anything about it." Putting down his drink, Simon walked over to Syerren, standing before him. "I love my wife and I love the family we will soon have, but as long as I walk in my own shoes, then it's my choice where to go. I don't doubt that I am missed, but I know that before long, I'll never be able to go anywhere, and that just doesn't build much confidence in me. I've been a traveling man for so long; to merely buckle down somewhere for so long, is like asking you to stay awake during the daytime . . . improbable."

Simon Smith

Leviathan Attack






Receiving much of Simon's defence to be a valid point, Syerren soon shook it off still puzzled by Simon's actions. Crossing his arms he glared, "But then why stay Simon, if you're this so called traveller. Why did you settle down basically give up the freedom and yet the way I see it you more so do it for your own benefit thinking that no one would care." Unsure what more he could to convince him, Syerren approached him, "Simon," grabbing the glass from him then putting it down and stared up at him, "Listen, in all honesty, I envy your life. I think you have everything working for you. I just don't' want it to be thrown away by you going out drinking, gambling and paying women to give you pleasure that you don't even know. Just know your wife is a very delicate girl and can easily get hurt."
"My Brother is my friend, my companion, what fun we have, what times we share with childhood
memories and grown-up dreams, Brothers from the beginning, Brothers till the end."

Syerren Armâge

Possessed By Quentin






"Well, if I didn't know any better, I'd think that you want to go bang her yourself!" Simon smirked, leaning against the wall. "Matter of fact, why don't you go ahead, just go ahead Syerren. I'll even do you one better, I'll just walk out that door and not come back till I know you had every chance to do so." Going to the door, hearing Syerren call at him, Simon shook his head. "I'm tired of being told where to go and what to do Syerren! I'm older than you for fuck sake, so respect your elders!" And with that, vanished from the house.

Simon Smith

Leviathan Attack






Lowering his head in shame, knowing Simon took what he said too harshly, knowing for certain the last thing he wanted to do was steal Cecillia away, Syerren moved towards the foyer then leaned back on the table unsure what more could be done. It wasn't much longer before Vladimir came down with Reginald in his arms and glared, "Syerren, where . . . where is Simon. I told you to watch him."

Scuffing from the remark Syerren shrugged, "I know and I did, I had a chat with him about the drinking and somehow he got mad and left; saying people need to respect him and stop telling him what to do." "I don't believe this. Did he tell you where he was going?" Soon finding Reginald gesture for Syerren, he smiled stroking him then took the young boy. "No . . . of course not, Vlad but I'm sure I have my hunches." Nodding slowly Vlad went to the door fetching his cloak. "Well I better get him back. I'm sure Cecillia would have a fit if she knew he was out drinking again. Look after the little one will you? I won't be long." "Yeah of course . . ." Watching him go, Syerren smirked then looked back at Reginald as he stared up at him, "Never be drunk, young Reginald; it'll get you into trouble," then looked back towards the door hoping Simon would be alright.

~End Scene~

"My Brother is my friend, my companion, what fun we have, what times we share with childhood
memories and grown-up dreams, Brothers from the beginning, Brothers till the end."

Syerren Armâge

Possessed By Quentin







Similar topics
---
Permissions in this forum:
You
cannot
reply to topics in this forum