After the household had managed to clean themselves and the mess in the foyer and drawing room up, the four then decided it was time to go pick up their valuables from safekeeping. Simon, most excited to hold Cecillia once again after all of this, gleefully led the way to the cottage in the woods. "We probably all shouldn't go inside at the same time; it might look a bit much for Mr. Collins," Simon spoke as everyone agreed. "Syerren, you and I should go inside, and Vlad, you and Amy can just meet us inside the bedroom," Simon added as he and Syerren then knocked and made their way inside.

Being told that Cecillia and Reginald were asleep in Cecillia's bedroom, the two men quietly crept inside, finding Amy and Vlad arrived at the same time. Seeing Cecillia laying asleep with Reginald cuddled in her arms, also fast asleep, Simon's heart sank and a smile came to his face, wishing there for a moment that it was his own child that lay in his wife's arms. Going over to the bed, Simon sat down on the edge, then leaning down over Cecillia, he brushed her hair from her face, then kissing her cheek, whispered in her ear. "I've come back to you my sweet darling," he spoke, watching her slowly awake with a growing smile. "Missed you," Simon spoke, as Cecillia embraced him. Then picking up Reginald, Simon handed the infant to Vladimir; "your son," he spoke with a grin.

Simon Smith

Leviathan Attack






Accepting Reginald from Simon while enjoying the solitude that everyone is alright, Vladimir brought his son to his shoulder still fast asleep then kissed his wife. Syerren relieved too everyone was fine, embraced Cecillia kissing her lightly, "I'm glad you and Reginald are safe dear. God only knows what would have happened if you stayed but we showed him a lesson." Vladimir then walked over towards Syerren gesturing him, obeying he turned towards Reginald kissing his forehead. "Quite a trooper we have. Yes . . . well we'll leave you all some privacy." Knowing then Mr. Collins would soon be wondering about everyone, Vladimir carefully handed Reginald to Syerren then grasped a hold on to Amy. "Look after him will you?" "Of course, brother," Seeing Amy and Vlad vanished from the room.
"I would rather spend one life time with you then go on having to face all the ages of this world alone. "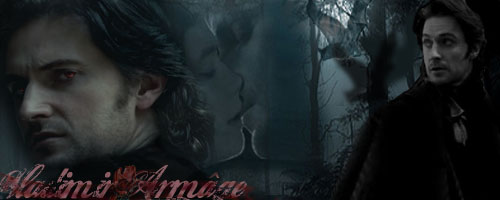 Vladimir Armâge

Possessed By Quentin






Helping Cecillia out of bed, Simon wrapped his arms around her. "Let's get back home my wonderful, lovely wife, " Simon grinned, kissing her then glancing towards Syerren. "Let's get out of her mate," Simon spoke to him as they headed out of the room. "Good night Mr. Collins," Simon nodded to the man. "Night father," Cecillia added, then followed Simon and Syerren out of the cottage. "So, does this mean that man and woman are dead?"

Simon Smith

Leviathan Attack






Walking along the path, Syerren and Simon remained silent for a moment looking towards each other when Cecillia questioned about Brighton and Justine. "Well dear, not exactly I'm afraid." Seeing Cecillia stopped Syerren stared down at her, "We could safely say dear is that they'll think twice before apposing threats against us and the house. Your cousin however was the one that set things straight." Syerren grinned seeing the Old House ahead, "but I'm sure you'll hear all about it tomorrow. I guess I'll leave you two to your married lives and put this one to bed," still having Reginald on his shoulder. Embracing Cecillia once more and Simon too, he vanished leaving the two alone near the terrace.

~End Scene~
"My Brother is my friend, my companion, what fun we have, what times we share with childhood
memories and grown-up dreams, Brothers from the beginning, Brothers till the end."

Syerren Armâge

Possessed By Quentin







Similar topics
---
Permissions in this forum:
You
cannot
reply to topics in this forum