Amy during this entire battle had been on the floor near the desk unconscious. Not long after Vladimir had rescued Simon from being burned alive, she soon became alert of her surroundings. Gasping in fear that Brighton had the three she loved stricken to the ground and cornered, Amy felt it was left up to her do something. Realizing she was close to the desk, she reached her hand up looking for something sharp. At last finding the envelope opener, she watched for the right moment while hearing the horrible things Brighton had planned. In her amazement seeing Justine leave to attend to a duty and then he step closer prepared to grab Syerren, Amy quickly made her way quietly getting Vladimir's gaze of surprise as hard as she could stabbed Brighton in the back, then scream watching blood drain down his sides.

Amy Collins Armâge

Makeup Crew






"You bitch!" Brighton screamed as he turned around seeing Amy. Standing up, looking around for Justine, Brighton then started towards Amy, attempting to grab and kill her for what she had done. Without a chance to do so, however, he was then grabbed by Vladimir, hoisted off his feet and choked. "This is not defeat," he coughed out, managing to show his rage to Vlad.

Brighton Weymouth

Condemned For Witchcraft






Successfully managing at the right moment in grabbing Brighton by the throat, Vladimir sneered in fury with such distaste dragging the man to the door shoving him hard against it, "No, its vengeance, for every soul you brought down at your mercy!" Opening the door, Vlad shoved the man outside then while still having a strong hold on Brighton, cornered him against the wall and revealing his own fangs as he examined him, "You may see there are similarities between us but damn you to Hell if you think for one second that I enjoy it as much as you; for I Brighton despise what I am and swore to have a life living despite it, while you slave away as nothing more then a monster!" Instantly taking hold of him once more Vlad powerfully shoved the man out across the woods and called out, "Think twice before coming back here, you bastard!"

Turning around then hearing a hostel voice of Justine, Syerren soon came out dragging her as she pleaded for his mercy and forgiveness. Ignoring it, he briskly shoved her off and away from the porch. "Don't forget your wench!" Laughing while noticing a large bat take to the sky and vanish, the brothers wrapped arms around each other feeling it was a true victory.
Last edited by Vladimir Armâge on 15th January 2012, 21:45; edited 1 time in total
"I would rather spend one life time with you then go on having to face all the ages of this world alone. "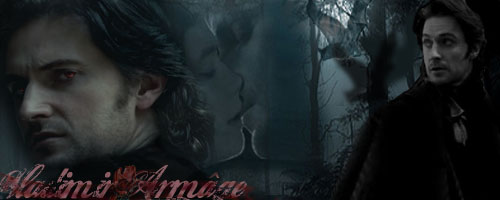 Vladimir Armâge

Possessed By Quentin






Noticing soon the brothers come back inside then seeing a grin from Vladimir, Amy instantly ran crying out, "We did it," jumping into his arms. Kissing her then releasing her, they looked towards Simon as Vlad spoke, "Doing alright there." "Surely it wasn't anything we couldn't handle brother." Syerren replied. "Do you think he'll come back?" Gazing to Simon then out the window to a full moon, Vlad shrugged, "Hard to say my dear but we'll be ready." then looking back grinning, "All of us."

~End Scene~


Amy Collins Armâge

Makeup Crew







---
Permissions in this forum:
You
cannot
reply to topics in this forum