Having arrived at the Old House in time to observe the dispute going on inside, Brighton felt annoyed, sure that Justine had caused it. Staring in the window at her, catching her focus in on him, Brighton gestured through his ways for her to meet him outside, then backed away before he was seen.

Standing a few yards from the house amongst trees, Brighton glared at the Old House until at last Justine came out and started towards him. Crossing his arms as she approached him, he first slapped her, then grabbing her sneered towards the Old House. "You've managed to lose one of them already! What the hell did you do?" Brighton questioned, but didn't care for the answer. "I have came up with the final plan, but it requires that they are all present . . . including the one that you have somehow managed to send out on his own . . . so I advise you to figure out how to get him back."

Brighton Weymouth

Condemned For Witchcraft






Justine remained sustained the ground after instantly being abused looking away from her master knowing she had failed. Looking back up with a sour expression she spoke, "I haven't failed yet . . . that idiot won't be gone long, he has a wife Cecillia that seems to enjoy her stay at the house very much. As for what I've done for you, your majesty," he spoke sarcastically beginning to walk around him then use the trees for her descriptions, "I've discovered the two go by a different mortal name I would suppose and are away on business. Oh I also brought you a shirt of one of those brothers' closet. Just look at it and see that they are hardly signs of any normal beings and like you predicted, they never appeared at all in the day except for that Simon although I have suspicions about him. And I know the pathetic family is hiding them in their base. . ." instantly held in place from talking more. Then looked up into his eyes, seeing he was annoy, she then wheezed out, "I . . . I did what you asked of me!"
"No one said it would be an easy life, but in time, it will have its rewards."

Justine Isabella

Condemned For Witchcraft






"But you didn't do enough!" Brighton exclaimed, pushing the woman away from him. "I will soon have complete power over this place and I will be the ultimate power." Glaring at Justine, Brighton went to her, now changing his tone towards her completely as he brushed his hand across her face. "And you will be there with me . . . my beautiful lady," he spoke, kissing her. "Now, get back in there and find out more information about them all. Where they rest, what their weaknesses are, and most of all . . . the easiest way to destroy them."

Brighton Weymouth

Condemned For Witchcraft






Simon hadn't gone far outside when he left the Old House, for he knew he truly didn't want to be alone; he just wanted everyone to believe him. About to go back inside and just cope with their lying house guest, Simon soon overheard talking nearby, sparking his attention. Disappearing and lingering around where the voices were, he wasn't surprised in the slightest to find that it was that woman and some man whom he hadn't seen before, but noticed looked suspicious. Listening to their conversation, Simon soon became worried as mention of he, Vlad, and Syerren were obviously made. "Destroy us . . ." Simon exclaimed, hearing enough. Rushing back inside of the Old House, Simon quickly reappeared in the drawing room, shocking everyone but not caring. "Vladimir, you have to trust me on this one mate," he spoke, catching his breath. "I was just outside when I overheard that woman speaking with a man who was about Syerren's height with shoulder length curly hair. They seemed to be discussing all of us . . . and ways to some how discover our secrets and destroy us. Please, you have to believe me," Simon begged.

Simon Smith

Leviathan Attack






Listening to Simon speak of the woman again to Vladimir, Syerren was left with mixed feelings about her as well but never considered her to be a threat. As for Vladimir, he was left un-amused by the story Simon had, "I had thought you would have left us Simon but really this is too much. She isn't a threat in the least to us, right Syerren?" Turning around he saw Syerren was in a daze. "Brother, what's the matter? Surely your not going to . . ." Instantly he turned around with a feared exclaiming, "Simon is right!" "What?" Standing Syerren walked towards him putting his hand on his head, "I . . . I knew I remembered her and now I do and . . . the man Simon here just described!" "What is all this about?" Vlad spoke confused. "Brother," Syerren spoke in almost fear grabbing his shoulders, "he's the one that was responsible for my . . . change not long ago! Him and that . . . woman of his! It's all becoming clear now." Releasing Vlad looking to Simon, "It's coming back to me, we've met them before. Her true name is Justine Isabella and her master is Brighton Weymouth! Rapidly turned back to Vlad, "Surely you remember them brother."

Remaining sustained in place as the names were revealed, Vladimir shook his head speaking deeply, "I do . . . a true master of the Dark Arts but no more then a vampire like us. I truly thought he was destroyed but it wasn't so." Turning away leaning on the couch he looked back to Simon, "I'm sorry I didn't believe you the first time mate; I was blind."
Last edited by Syerren Armâge on 16th October 2012, 02:39; edited 2 times in total
"My Brother is my friend, my companion, what fun we have, what times we share with childhood
memories and grown-up dreams, Brothers from the beginning, Brothers till the end."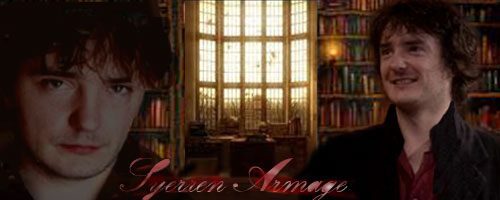 Syerren Armâge

Possessed By Quentin






"You can apologize for it later, mate," Simon spoke, hushing Vlad. "But right now we have our own lives, as well as the lives of our family to protect," Simon continued, instantly hearing the front door open and Justine step inside. Turning to glare at her as did everyone else, Simon quickly whispered "act normal," to Vlad, then approached the woman. "It seems I have an apology that I owe you," he spoke to her, crossing his arms. "I trust that you will accept? Furthermore, I would like to invite you to come with me down to the police station? Perhaps you would like to file a report on this husband of yours. There's no need to be frightened to go . . . I can surely protect you from any harm done. Then from there, I'm sure that the Sheriff can put you into protective custody, where you will be a lot safer than here."

Simon Smith

Leviathan Attack






Justine having hastily left Brighton with out being seen, quickly made her way back to the Old House. Hoping to find she was the only one present, she gasped a sigh of relief seeing Simon had returned. Hearing then he was volunteering to go with her to the police station, she glanced at the brothers seeing they had a slight glare to their expression. Looking up to Simon, Justine shook her head, "I don't think that would be necessary. I received word that my husband was arrested and soon after they do their inspections for evidence, in a day or two I could return home."
"No one said it would be an easy life, but in time, it will have its rewards."

Justine Isabella

Condemned For Witchcraft






"Inspections for evidence?" Simon questioned, smirking slightly, "wouldn't you be the evidence they needed? If your husband indeed was abusing you, then you would therefore be what they needed? Or has your so called husband been up to more things than you have said? Furthermore, if you've never went to the police, how indeed would the police know to tell you anything?" Feeling as though he had proven that Justine's story was a complete scam, Simon grinned slightly as he stepped away, going towards the window. "Was that man out there that I saw you with the one who supposedly told you all of this," he then stated, turning around just soon enough to see she had gasped from Simon's question."

Simon Smith

Leviathan Attack






Syerren and Vladimir who were keeping a close watch with what was occurring as Simon was revealing each lie that Justine had told, felt tense more that she wasn't who she claimed. Becoming annoyed by what Simon was doing then finding out that she was followed, Justine scuffed in his direction, "You can't be serious. Mr. Armâge" turning to Vlad, "You can't believe what Mr. Smith is saying. My husband is a crazed man!"

"Of course Mrs. LeBlanc, but surely you would be so kind as to explain the real reason why you are here?" Tensing while moving back as her plan was falling apart and the only option was to flee, Justine looked to Syerren who simply glared in fury revealing his fangs, knowing he must had his memory of the nights return to him. As her heart was pounding, Justine looked to the stairs then briskly ran up only to be stopped at the top by Syerren and Vladimir. "You dare come to this house and test our hospitality so you can learn information about us?" Vlad sneered with more of the same expression as his brother." "I don't know what your talking about . . ." then halted as she went down to run into Simon behind her as Vlad sneered, "You aren't going anywhere."
Last edited by Syerren Armâge on 29th December 2011, 15:59; edited 1 time in total
"My Brother is my friend, my companion, what fun we have, what times we share with childhood
memories and grown-up dreams, Brothers from the beginning, Brothers till the end."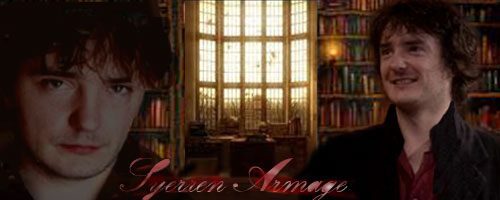 Syerren Armâge

Possessed By Quentin






Forcefully grabbing Justine, Simon glared down at her. "Well all know that you've done nothing but tell a bunch of lies, you bitch, and though you might have been successful in deceiving our wives with your cunning plans, you will not continue to deceive us!" Clenching the woman by the throat, preventing her from speaking or moving, Simon glared up at Vladimir. "She is now yours, Vladimir. I don't want you to kill her completely, but make sure you drain enough of her blood to where she isn't going anywhere any time soon," Simon smirked, then threw the woman up into Vlad's arms.

Simon Smith

Leviathan Attack






Syerren, watching from the top of the steps couldn't begin to imagine what sort of woman Justine was, having been with that Brighton of hers for so long. Tensing as Simon let Justine's life be in the hands of his brother, Syerren walked down speaking allowed, "Vlad wait," going next to him, gazing down at Justine as she stared back Syerren spoke, "Join with us as yourself Justine and tell us how your master can permanently be destroyed." Looking back once more at all the faces she spat then sneered, "Rot in Hell all of you!"

Instantly stepping back Vlad smacked the woman out of his hands, "You bitch! There is no other way for you!" sneering back at Syerren who looked away in fury then back at the woman now unconscious and lunged towards her biting into her neck as blood poured into and around his mouth.    

After several seconds having drained almost three quarters of her blood, Vladimir was helped up then wiped his face clean and sneered down, "You will no longer have a will of your own Miss. Justine no more will you serve your master." Looking to Simon gesturing towards her to be placed on the couch, Vlad sighed, Knowing it was only a matter of time before Brighton would come for her.

~End Scene~
"My Brother is my friend, my companion, what fun we have, what times we share with childhood
memories and grown-up dreams, Brothers from the beginning, Brothers till the end."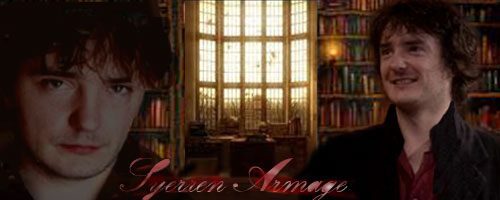 Syerren Armâge

Possessed By Quentin







---
Permissions in this forum:
You
cannot
reply to topics in this forum