Leaving out into the evening after making herself presentable for the plan to fool the family, Justine was left in bafflement by exactly what she was suppose to learn from the family. Having only briefly met the brother's Vladimir and Syerren, in the 19th century and from what her master has told her nothing more was remained of it. Reaching the Old House having suddenly fallen in love with it she was surprised that such people like Vladimir and Syerren could live there. Finding her way to the entrance, Justine held close to her coat putting her hood over her then proceeded knocking the bulky wooden door. Remembering what Brighton told her she turned towards the nearby window seeing clearly candle light was shown through knowing someone must be home. Instantly as the door finally opened it, she looked up and although wasn't familiar to her she beamed at the charming tall gentleman then began her act. "Oh sir you must help me I am seeking shelter for the night for I am running away from my abusive husband and surely if I was left out here he would find me!" Now nearly on the floor, "Please can you help me sir!"

"No one said it would be an easy life, but in time, it will have its rewards."

Justine Isabella

Condemned For Witchcraft






Just on his way downstairs to fetch he and his wife a glass of wine, Simon was interrupted when there became a knock at the door. Wondering who could be stopping by at this hour, Simon sighed, going over to answer it. Immediately becoming concerned by the sight of the woman at the door, Simon quickly grabbed her, helping her into the house. Come right this way, Simon spoke, putting aside all questions as he helped her get comfortable. "Richard!," Simon then called out, smiling down at Justine. "He's the head of this household," Simon spoke, reassuring her. Finding that Vladimir wasn't responding, Simon sighed. "Please excuse me for a moment," he spoke, then quickly walking out of the room and into the foyer, called again. "Richard, please come down mate!"

Simon Smith

Leviathan Attack






Having been upstairs the library tending to his own study, Vladimir turned around in his chair as he thought he heard Simon call his name. Uncertain at first, he stood stretching then walking then looking out into the hall hearing then his name again. Sighing, figuring they have guests at such an hour, Vlad quickly adjusted his clothing then ran his fingers through his hair while descending down. "Yes Simon . . . what is it?" Gazing down at the feeble woman in the chair, "What's exactly is all this?"
"I would rather spend one life time with you then go on having to face all the ages of this world alone. "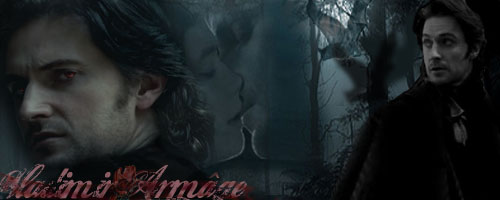 Vladimir Armâge

Possessed By Quentin






Turning her body around relieved in having Simon be so hospitable to her, Justine turned her head instantly recognizing the face to be Vladimir Drakúla except slightly different for when they passed eyes before. "Sir I come here to plead a favour." grabbing Vlad's hand "I have no where to stay and am troubled at home with an abusive husband who I swore not to tell the police; please might I stay for the night. I will be of no trouble to you or anyone of the household; I promise and look in return in offering money if not caretaking a fine house as this. Please will you consider it?"

Astonished to have such a woman to come here and beg for nothing more then a bed to sleep in, Vladimir glared at her slightly pulling back his hand will little effort. Looking away for a moment then towards Simon, Vlad gestured him towards the foyer then spoke quietly so the woman wouldn't hear. "What do you think of all of this Simon? It's not that don't want to help this woman out. It's just how would we go abide in accepting a stranger into this house without putting us in danger?"

"No one said it would be an easy life, but in time, it will have its rewards."

Justine Isabella

Condemned For Witchcraft






Looking back into the room at the woman, then turning back to Vladimir, Simon sighed. "Well mate, I don't have the guts to tell her that she can't stay here . . . do you?" Watching as Vladimir was hesitant, Simon placed his hand on Vlad's shoulder. "If it'll make you feel better, I'll remain in the basement all day long tomorrow and watch over your and Syerren's coffin; my wife can explain my absence if our house guest were to question about it." Knowing Vlad still needed more convincing, Simon sighed. "Well you can't tell me that you can't tell that she's been beaten. I can see it from here," he spoke, looking at the woman's face. "Someone had to have done it to her; so , why not keep her here, and perhaps tomorrow the women can get some answers out of her. If she does turn out to be up to no good, well . . . I suppose she chose the wrong house to show up to, eh?" He laughed.

Simon Smith

Leviathan Attack






Smirking from the comment, knowing Simon of all people knew what was right, Vladimir strode back to the drawing room coming to the woman, "I talked it over and with Simon here and he gave me every indication for you to stay, so I welcome you to our home, Miss. . ." Thinking for a second she spoke, "Christine LeBlanc, sir." Nodding slightly, Vlad glanced at Simon then back, "Miss. LeBlanc and I am Richard Armâge; I hope you find your stay comfortable." "Thank you sir," Justine spoke picking up her small bag of belongings following towards the stairs.
"I would rather spend one life time with you then go on having to face all the ages of this world alone. "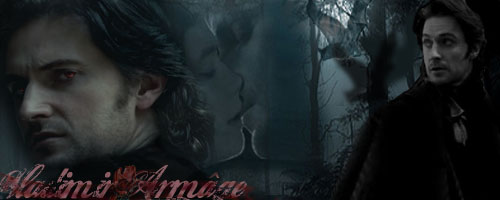 Vladimir Armâge

Possessed By Quentin






In the midst of this, Syerren just coming down after a shower and freshening up for the evening, came down then instantly tensed as Justine began to ascend. "Ah, Dylan," Vlad spoke before he could question further, "there you are; this is Christine Leblanc, she was a passerby in need of a room for the night. This is my brother Dylan." Syerren continuously staring at her knowing he has somehow seen her before but not remembering, shook it off and tried to grin, "How do you do Miss. LeBlanc . . . " "Likewise Mr. Armâge. Enjoy your evening." Leaving him with a grin then continuing upstairs.

Feeling tense when seeing the woman, Syerren breathed hard then looked seeing Simon remaining with him glaring. "I . . . I don't what it is Simon but I could have sworn I've seen that woman before. I just can't seem to remember where or how I remember her."


"My Brother is my friend, my companion, what fun we have, what times we share with childhood
memories and grown-up dreams, Brothers from the beginning, Brothers till the end."

Syerren Armâge

Possessed By Quentin






Shrugging, Simon passed the thought off. "That's the thing about women Syerren; every time you see one that is even just mildly attractive to you, you can nearly swear you've seen her before. Of course, it's probably just the mind playing tricks on you mate," Simon grinned. "Now, just put the thought behind you mate and enjoy the rest of your evening . . . I know I am," Simon smirked, going and grabbing the bottle of wine he had placed on the foyer table. "And if anyone wants me, tell them I'm unavailable for the night!"

~End Scene~

Simon Smith

Leviathan Attack







Similar topics
---
Permissions in this forum:
You
cannot
reply to topics in this forum