After figuring out what needed to be done and then proceeding to make their way back out of the house, Cecillia and Amy went back to the Old House. Waiting around for night fall to come, Cecillia found Amy browsing the contents of a shelf. "Amy," Cecillia said, coming back downstairs from a tour upstairs. "Do you think that we should go meet Vladimir and Syerren at their resting place? I don't feel safe staying here much longer, especially with night falling," she said, still thinking about the run in with Jamison earlier. "Hopefully then a plan on how to switch these jewelry boxes can be set. I hate to admit it, but I think I'm nearly ready to get back into our time!"
Ƹ̵̡Ӝ̵̨̄Ʒ
ღஜ
Every inch of you is perfect from the bottom to the top
Ƹ̵̡Ӝ̵̨̄Ʒ
ღஜ

Cecillia Collins Smith

Makeup Crew






Amy glanced at Cecillia then to the window, I think your right Cecillia. I would be much more comfortable in knowing we have Vladimir and Syerren by our sides to fix this mess." Heading towards the door, Amy took one last look in the drawing room. "I just hope we can get back soon." She looked at the jewellery box for Mildred then nodded. "I'm sure we will be fine," closing the door behind her.

Upon arriving to the cemetery, darkness was only minutes away. Amy held Cecillia close to ensure no one was to see them. Hearing wolves in the distance Amy strode on to the back end to the cemetery when arriving to the mausoleum. The two stood near the gate watching as the portal to the secret room opened.

Amy Collins Armâge

Makeup Crew






Stepping out into another evening, Vladimir followed by Syerren made there way out only to see Cecillia and Amy just outside the mausoleum. "Amy, Cecillia what are you two doing out here? It's dangerous." Syerren just as baffled approached them, "Is everything alright?" Amy sighed looking to Cecillia then to Vlad. "Vlad, strange occurrences happened today. Jamison Collins came by this morning not remembering even speaking with you about staying at the Old House and so we basically did as we were told and left or we would have the police to deal with otherwise." Vlad felt sorry for them and embraced her, "Oh dear, I'm sorry that happened. What has gotten into that Collins doesn't he know who we are?" Vlad said glancing at Syerren who shrugged. "Did anything else happen?" Syerren asked turning to Cecillia.
"I would rather spend one life time with you then go on having to face all the ages of this world alone. "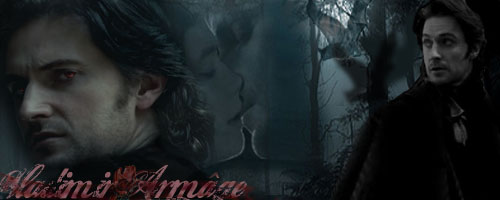 Vladimir Armâge

Possessed By Quentin






Relieved to have Syerren and Vladimir awake at last, Cecillia looked up at Syerren, answering his question. "In fact, a lot more has happened." Starting from the initial visitation of Quentin, Cecillia went on to tell about the fair and then seeing Mildred. "Mildred was standing right beside of Amy, but luckily she doesn't know either of us in this time." Cutting to the chase, Cecillia looked up at Amy. "Amy and I found the jewelry box at the fair, but Mildred got her hands on it first. When we both got back to the Old House and reexamined the key which Quentin had left behind, we heard music from the distance. Following it, we were led through secret passageways up to Quentin's room where we found this," Cecillia gestured at the jewelry box in Amy's hand. "It is exactly like the time traveling one except without the bird on top. That one there is merely a jewelry box; nothing more. Amy and I came to the conclusion that this one must be switched with the one Mildred has . . . it's our only way of getting it!"
Ƹ̵̡Ӝ̵̨̄Ʒ
ღஜ
Every inch of you is perfect from the bottom to the top
Ƹ̵̡Ӝ̵̨̄Ʒ
ღஜ

Cecillia Collins Smith

Makeup Crew






"Mildred is here?" questioned Syerren surprised, "I…" he turned to Vladimir. "Vlad isn't she…" Vlad nodded in response. "She is working for our father at this time. Fulfilling in the tasks that he feels we couldn't accomplish." Taking the jewellery box from Amy Vlad examined it then passed it to Syerren, "What do you make of it Syerr." Syerren examined it closely. "She's right it's a fake and Mildred has the real one? Vlad do you know what could happen if that falls back into our Father's hands?" Vlad sighed, "I know but something tells me, she has other uses for it," glancing at Cecillia. "What are we going to do Vlad?" Syerren asked looking around. Vlad pulled his brother aside, "Mildred when residing her lives in that cottage, does she not?" "I think so." The two look back at Amy and Cecillia. "Perhaps, we will have the girls cause a distraction for her." Syerren shook his head, "I don't follow." "While we will search and switch the time box for the real jewellery box," Vlad said grinning at the thought, "I'm sure she will love the trick. So we are agreed then?" "Vlad how should we distract Mildred?" Amy asked. "Well dear, say your advertising something perhaps. I'm sure she will fall for anything fancy enough."

~End Scene~
"My Brother is my friend, my companion, what fun we have, what times we share with childhood
memories and grown-up dreams, Brothers from the beginning, Brothers till the end."

Syerren Armâge

Possessed By Quentin







Similar topics
---
Permissions in this forum:
You
cannot
reply to topics in this forum