As the four transcended time into the year 1923, they landed in the woods right in the center of the Collins Estate, just like always. Having to hold on to Syerren for the journey, Cecillia let go, then glanced around at the surroundings. "It never does change," she said with a smile. "I believe I've now seen this place in four different times, and it's amazing how the estate seems to stay the same no matter the year." She turned to the other three suprised by there changes in time. "What are the plans of the night," she said with a smile. "Let's truly make it something to remember, forever and always."
Ƹ̵̡Ӝ̵̨̄Ʒ
ღஜ
Every inch of you is perfect from the bottom to the top
Ƹ̵̡Ӝ̵̨̄Ʒ
ღஜ

Cecillia Collins Smith

Makeup Crew






Looking down while shaking off from the trip, Syerren looked around turning to his brother seeing how he and his brother changed appearance adapting to the surroundings. Going to Vlad and Amy's side, calling to them, "Vlad, Amy," Syerren said shaking them. He glanced at Cecillia wandering off. "Dear stay here." Looking back he was relieved they were coming to. "Are you alright brother?"
"My Brother is my friend, my companion, what fun we have, what times we share with childhood
memories and grown-up dreams, Brothers from the beginning, Brothers till the end."

Syerren Armâge

Possessed By Quentin






Coming to hearing Syerren's voice, Vladimir awoke looking down at Amy starting to focus. "Did we make it?" he asked looking at Syerren. Standing, Vlad looked towards Amy, "Are you ok dear?" "Yes I think so, where are we?" Syerren responded looking around, "1923 Collinsport." Amy looked around admiring the men then herself and Cecillia. "Well it seems you two adapted well for the era but what of my cousin and me?" The brother's glanced at each other, "Well dear, I'm sure you and Cecillia will be fine." Vlad said adjusting her hair slightly, and if they question about it we are foreign." Amy grinned and nodded.
"I would rather spend one life time with you then go on having to face all the ages of this world alone. "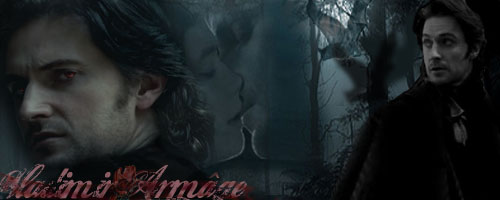 Vladimir Armâge

Possessed By Quentin






Syerren then glanced down at Cecillia then to Vlad, "Vladimir, if we are to meet the family we can't just say that Cecillia is Collins could we?" Thinking for a moment, "You may have a point there. Amy is safe in being my wife but for you Cecillia…" "Oh Vlad make her my sister and have her use my middle name du Prés. It shouldn't harm anything will it," Amy said glancing at her with a smile. Vlad looked at her sighing, "No I suppose not." Looking at the sky, Vlad turned to his brother, "We better act fast we don't have a lot of time as we are still the living dead in this world."
"My Brother is my friend, my companion, what fun we have, what times we share with childhood
memories and grown-up dreams, Brothers from the beginning, Brothers till the end."

Syerren Armâge

Possessed By Quentin






Smiling at everyone, Cecillia turned towards the direction of Collinwood, and then looked back at the group. "Shall we go to Collinwood and see how the Collins lived during this time period? Oh, I am sure that it would surely be something to remember . . . what do you all say," Cecillia questioned with a grin. As everyone agreed, she excitedly led the familiar way up the path, seeing the great mansion up ahead. "It's almost as if seeing it for the first time all over again isn't it Amy," she questioned her cousin as they made their way towards the door. Though, the excitement soon turned to nervousness as the four stood in front of it, knowing that just on the other side lived people from a different time . . . people they were never meant to meet on this day in time.
Ƹ̵̡Ӝ̵̨̄Ʒ
ღஜ
Every inch of you is perfect from the bottom to the top
Ƹ̵̡Ӝ̵̨̄Ʒ
ღஜ

Cecillia Collins Smith

Makeup Crew






Not knowing how many times Vladimir and Syerren presented themselves to the Collins family in the past, they knew it was different this time. Vlad stood in front as the great doors opened. "Yes, can I help you?" Vlad nodded slightly, "Good Evening I am here to speak with Jamison Collins, I was told he resided here." The man looked at him curiously yes I am Mr. Collins what could I do for you?" Grinning towards his brother then back to the man, Vlad continued. "I am Richard Armâge and this is my brother Dylan, my wife Amy and her sister Cecillia and we have just arrived from England and are a close friend of the families. "I see…well please come in Mr. Armâge and welcome to Collinsport." Grinning Vlad entered following the rest. "You see Mr. Collins we have worked close in the past with Collins family and hoping to develop a strong connection once more." "I see what do you do?" "Oh mainly exports shipping," Vlad said glancing at Syerren once more.

Vlad then straitened himself then asked," Tell me Mr. Collins, We have recently came across a building when we walked through the estates, it seems to be at least a hundred years old." Jamison nodded, "It is. Its ancestral home hasn't been used in awhile now." Actually if I do remember there was a small family two brothers's dwelling there after agreeing to rid of those gypsies. Vlad nodded, "You must mean our relatives yes, we knew them quite well." "Actually Mr. Collins," Amy spoke as Vlad eyed her, "We were wondering if you might let us look around the house and perhaps renovate it to its original form." Jamison laughed, "Are you mad?" "Is there a problem?" Vlad insisted. "It hasn't be used in so long." "So why not let us take it off your hands then." Syerren added. "Well alright you are welcome to have a look around and live since the Armâge name was close to the family." Watching as Jamison went into the other room to get the keys, the group conversed. "Seems we have a place to stay. "Well done, brother." Syerren said. Amy got up and admired the structure never seeing it in this form before, "Vlad it's so different." She turned to Cecillia what do you think?"
"I would rather spend one life time with you then go on having to face all the ages of this world alone. "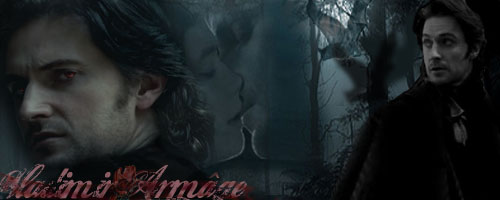 Vladimir Armâge

Possessed By Quentin






"It's just like as I said out in the woods Amy; it's just like seeing the place over for the first time. To be honest, things don't look all that bad this way." She smiled, happy to be on such a journey with Vladimir, Amy, and Syerren. She was likewise thrilled to see the Old House once again as it was before being renovated in present time. As Jamison entered the room once again carrying the keys and handing them to Vladimir, Cecillia looked at him with interest and then quickly back to the others. "Shall we go now," she questioned with a grin, anxious to get away from the strange feeling that her and Amy's appearance might secretly be curious to the man standing before them.

~End Scene~
Ƹ̵̡Ӝ̵̨̄Ʒ
ღஜ
Every inch of you is perfect from the bottom to the top
Ƹ̵̡Ӝ̵̨̄Ʒ
ღஜ

Cecillia Collins Smith

Makeup Crew







Similar topics
---
Permissions in this forum:
You
cannot
reply to topics in this forum