Luigi Smith, twin brother to Syerren, remains in his hermit lifestyle. Enjoying the life of solitude when possible in a small cottage on the eastes, he makes time to visit his family as well.

Unfortunately, upon visiting early one morning he knew his visit wouldn't react well. As Syerren opened the door seeing Luigi he frowned knowing exactly what happened.

"Oh not the plumbing again." Syerren questioned as Luigi nodded still soaked from the experience.
"I've done everything I could think of but still its a mess especially in the basement."

Being passed a cup of tea, he sighed deeply glancing as Ange and Lauryn came into the room. "So any chance I might could stay for a day or two Syerren?"
Last edited by Luigi Osbourne on 13th January 2018, 22:48; edited 1 time in total

Luigi Osbourne

Cursed By Patofi's Hand






"What a great idea; come on, let the old man stay," Lauryn smiled, wrapping an arm around Luigi and handing him a cup of hot coffee she had just poured, trading him the cup of tea. "So, what has my most favorite uncle been up to lately?" Lauryn questioned, as she sat down beside of him on the sofa. "Wrote any good new short stores lately? I would love to have something new of yours to read; you come up with some great stuff," Lauryn smiled.

Lauryn Osbourne Armâge

Leviathan Attack






Luigi laughed patting Lauryn on the shoulder. "Oh things other than why I'm here are going splendid and I'm still working on ideas, dear but you'll be the first to know when I have something."

Turning back to Syerren, he lowered his head, "I hope you don't mind the intrusion Syerren, I wouldn't have anywhere to go but . . ."

"Oh nonsense, Luigi, you're welcome here as long as you like." Syerren spoke stirring his cup. "Where else would you go? I mean sure those dreadful Collins have the damn space but God forbid they would allow anyone ten feet of the establishment. "

"Still in a feud with them are we?" Luigi questioned.

"Of course, with no end anywhere in sight; however, about your flooding issue I'm sure that it won't be an issue to get it fixed; I mean how hard could it be?"


Luigi Osbourne

Cursed By Patofi's Hand






Found upstairs in a study, Ange hovered over a table spreading out a deck of cards given to her long ago. While haven't examined tarot cards for some time, she felt it was time to reunite and see what fate bestowed upon her.
First hovering hand over the cards she let her emotions guide her and picked up the first being the nine of swords.

In regards to nightmares and consequences that follow. Feeling then lightheaded by it all, Ange shook it off knowing cards had many meanings. Deciding to try again she picked up another examining it to be of the moon giving the impression of fear unhappiness and confusion.

Hearing then a clap of thunder come from out the window, startling her, Ange stood from the table and went to the window having left it open as Collinsport's famous storms began to occur.

Once closing the window she stared out into the lawn seeing a woman dressed in white. Not noticing her face, Ange was prepared to go investigate who she was but the stopped in horror as it was Amy Collins; known only in this world as being dead. "It can't be."

Turning away trying to accept that she was back, Ange looked again and saw she was gone. "Could I have imagined her," quickly looking around the yard for her then stopped as she remembered the tarots.
Taking a deep breath, Ange considered she must have mistaken quickly gathered the cards putting them away then left the room hoping for get what she saw.

"Some things you see with your eyes; others, you see with your heart."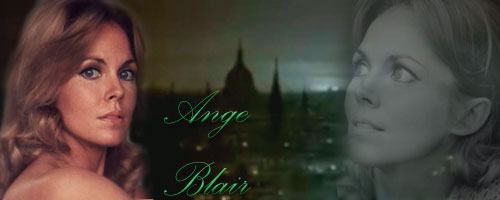 Ange Blair

Cursed By Patofi's Hand






After sitting in the drawing room with her father and uncle for what must have been an hour, if not longer, Lauryn glanced over at the clock, noting the time. "Shoot," she muttered to herself, quickly standing. "I will see you later dad and Lu, but I almost late for something and must go now," she said, scattering out of the room before anyone could question her further. Racing upstairs to her bedroom, Lauryn turned the corner, running straight into her mother. "Oh, sorry mom," Lauryn said, rubbing her head as she had smacked it against the wall trying to dodge Ange.

"What's the hurry, Lauryn?" Ange questioned, grinning slightly as she stood by the doorway of her daughters room, watching as she quickly threw on a new outfit and pulled her hair up.

"I forgot all about the interview for my part time job that is in fifteen minutes!"

"What part time job? Fifteen minutes? That's hardly enough time to get into town and find a decent parking spot."

"The job isn't in town mother." Sighing, Lauryn grabbed her purse and slid into a pair of shoes, then walked towards the door, stopping before her, now very curious, mother. "If you must know, the job is a part time maid position over at the Collins' place. I know it's not much, but it would help me save for college."

"The Collins'? Have you gone mad?" Ange exclaimed, crossing her arms. "First of all, if your father found out, he would surely yell at you, if not worse, and then do the same to me for not telling!"

"Mother!" Lauryn exclaimed, sliding past her. "I don't care what bull-shit feud that you and Pops have with those weird Collins twins! I'm not working for them anyway; I'm working for the wife."

"Lauryn!" Ange called after her daughter after a few moments, but was met only by the sound of the front door slamming. Sighing, she leaned against the door frame of Lauryn's room, thinking back to the days when things were much simpler.

~End Scene~

Lauryn Osbourne Armâge

Leviathan Attack







Similar topics
---
Permissions in this forum:
You
cannot
reply to topics in this forum