Having spent the last hour pondering what was going on while trying to convince Lauryn that she was mistaken about his family members, Reginald glanced at the card once more then tried talking to Ange or Amy of the issue in hand. Not receiving the answer he wanted, he followed to where Robert had led Syerren and Simon and found they had gone. "Now where could they have gone?"

Tired of waiting, Reginald remembered he and Lauryn had to get back to the hotel to check on the children and staff. After letting everyone know, they was leaving, the two ventured out into the woods all the while wondering what became of Robert, Syerren and Simon.

As the two walked in silence for a moment, Lauryn broke a twig from a tree and started fiddling with it then questioned, "You know I wonder what it would be like to be the undead?"

"Oh your still not on about this whole vampire thing are you? Syerren can't be a vampire Lauryn. They're no such thing."

"Alright, alright, I'll drop it okay, Mister Grumpy." Tossing the twig away, "I won't talk of it anymore."
Sighing of relief, Reginald nodded, "Thank you; the last thing I want is talk of my wife to be administered into Windcliff and –" he paused while suddenly stopping his pace.

"What is it Reginald?" Lauryn questioned looking towards the path, seeing the hotel was up ahead.

"I thought I heard something," silencing her again hearing voices, Reginald took another direction, "This way, dear."

"Life feels complete now; although we continue to live our normal lives, in times, we aren't
that normal. I love it!"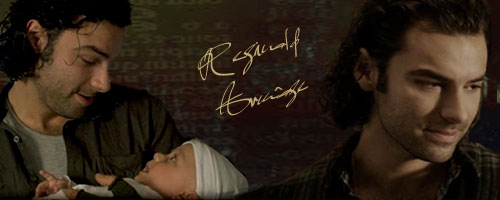 Reginald Collins Armâge

Leviathan Attack






Following beside of Reginald as the two made their way closer to the hotel, the two turned a corner and at the same moment ran smack into Simon. Stumbling backwards but being caught by Reginald, Lauryn then saw Syerren, Vlad, and Robert behind him.

"Father!" Reginald explained, going to him as the two hugged. "Where have you been all of this time? We have been worried sick about you."

Lauryn Osbourne Armâge

Leviathan Attack






The group made it back to Collinsport in record timing before dawn hit in London town. Appearing on the side of the Old House, Vladimir, after returning home, had such a desire to feed all the while feeling too weak to move. Syerren noticing this, gestured to Robert while Simon went inside to drink, that Vladimir needed blood hoping he would have a vile on him. Seeing he didn't possess one at the point in time, annoyed, Syerren moved with Vladimir out into the woods.

Scrambling as he looked for something with Vladimir leaning on him for support, "Dear God there must be something." Instantly he stopped and heard in the distance rustling of the leaves on the ground. "I hear someone. Come on Brother, we'd best not stay here and try another location."
"No . . . wait, it's Reginald." He smiled starting to stand.

"Reginald? He can't see you like this, Vladimir. Come along." Syerren ordered but it was too late.

"Evening, Reginald, Lauryn." Replying for the group seeing Reginald identified Vladimir as not being well. "Yes we found your father, he was hidden . . . not far from here in a basement or catacomb of some kind and well as you can see, he's sick."







"My Brother is my friend, my companion, what fun we have, what times we share with childhood
memories and grown-up dreams, Brothers from the beginning, Brothers till the end."

Syerren Armâge

Possessed By Quentin






Finding it utterly bizarre that Vlad was simply locked up in a basement or something all this time and now was found apparently untouched asides from being weak, Lauryn continued to feel uneasy regarding the discussion she had with Reginald earlier. Getting then a crazy, terrible idea but knowing she wanted to know the truth at last, Lauryn secretly removed the gauze wrap around her palm that she had cut earlier. Finding the wound still fresh, she approached Vladimir as if to hug him to welcome him back, but first dug into the wound as a gush of blood spewed out into her palm. "I'm so glad that you're okay," Lauryn smiled bringing up her hand to wrap around his neck to hug him, letting it linger for a moment "

Lauryn Osbourne Armâge

Leviathan Attack






Breathing hard while wanting nothing more than the pain of his urge to vanquish, Vladimir felt comforted by first seeing Reginald and then Lauryn until an appealing scent came to him, bringing back with it the desire for blood.

Pulling back, Vladimir forcibly grabbed her hand with a strong grip and stared at the blood oozing out and revealed his fangs for all to witness.

Syerren catching notice of this, rapidly grabbed Lauryn, shoving her away. "Lauryn have you gone mad! You're going to get hurt!" he cried moving in front of Vladimir. "Brother, listen." Blocking his attempts to pass him and get to Lauryn, Syerren shoved him only in turn was propelled by a powerful shove, sending him across the woods.

Reginald remained in complete shock while watching in hiding behind a tree after Robert grabbed him from getting hurt. Seeing Vladimir have his way with his brother, and listening to what Robert was stating, he felt as if all the emotions in the world hit him at once. Reg then shook his head from the experience wanting nothing more than to do something.  AS he looked up from his tears, he pulled from Robert's grasp and stared back at him, "What the Hell is going on? Why is he like this?" As Robert was prepared to answer him, he sneered, "You mean to say my father is really a vampire this whole damn time?!"
Having enough, Reginald sprung out after he threw his brother and glared, "Father! Please fight whatever is wrong with you and . . . "

Instantly he felt the deathly cold hands from his father as he moved closer to him. As he sensed Robert come near, Vladimir looked up outstretching his head making him shoot backwards against a tree. Then looked to Reginald and instantly lunged into his neck.
"I would rather spend one life time with you then go on having to face all the ages of this world alone. "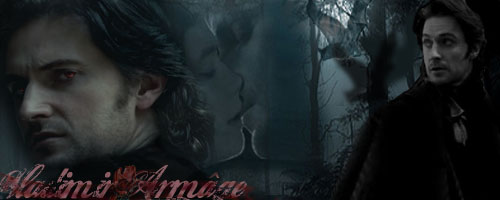 Vladimir Armâge

Possessed By Quentin






Becoming engulfed in outrage and fright as to the scene occurring in front of her, despite everyone's efforts in attempting to restrain her, Lauryn managed to make her way over to Reginald and Vladimir, grabbing hold of Reginald. "Stop! Stop what you are doing! You're going to kill him!" Lauryn screamed, being pushed back by Vladimir who was unable to stop his actions. Having a fit and unable to think of any other way, Lauryn quickly grabbed the cross necklace around her neck, breaking the chain as she forced the necklace up against Vladimir's face as he suddenly let up, jerking away as a burned marking was displayed on his cheek. Disregarding his perils, Lauryn instead turned her attention to Reginald, who fell almost motionless down to the forest floor. "Reginald!" She screamed, kneeling over top of him, wiping away the blood running down his neck with her hand as tears fell from her face, landing on his shirt. "Reggy, wake up, babe please wake up," She cried, brushing her hands through his hair and over his face, laying her head then down on his chest. "He's not breathing! His heart is not beating and he is not breathing!" She then cried out, jerking up as she glared over at Syerren and Robert who was left, after Vladimir had fled the scene. "Don't just stand there, do something, damn it!" She shouted, looking back down at Reginald's lifeless body. "Please."

Lauryn Osbourne Armâge

Leviathan Attack






Left clear across the woods landing near a tree stump, Syerren regained consciousness, having only come to sense of what was going on. Shaking off any dizziness he had, he glared and went back to the scene hoping nothing drastic came of it but found everything he didn't want to happen, did.

Unable to help but watch the scene fall before him, while noticing Vladimir vanish into the night, he glanced at Robert who was unsure what more could be done. Knowing how much Reginald meant to everyone, Syerren wasn't prepared to give up. Lowering to Reginald, he first grabbed his hand, checking for a pulse finding it to be extremely weak. "We're going to have to move fast, Reginald isn't going to make it through the night" Removing the blazer he was wearing and wrapping it around him, Syerren picked up Reginald and looked to Lauryn sighing. "You were right about me, the whole accusations of being a vampire, everything. I am sorry we had to pull this charade in front of you we've done it for so long we almost forget that whom we tell are in fact family."

"Go on and take him back Syerren . . ." Robert commented catching a glare from Lauryn by the name.

Nodding, Syerren looked to the sky and vanished with Reginald in his arms.
"My Brother is my friend, my companion, what fun we have, what times we share with childhood
memories and grown-up dreams, Brothers from the beginning, Brothers till the end."

Syerren Armâge

Possessed By Quentin







Similar topics
---
Permissions in this forum:
You
cannot
reply to topics in this forum