Nightfall soon came to the Old House marking the time for the dead to rise. While stricken by everything that had occurred these past nights with Simon's burns to their relatives returning, Syerren tried looking passed it all and continued living life normally. Stretching then letting out a yawn as he got out of his coffin, Syerren closed his coffin only to find a note attached with a dagger to his brother's coffin. Slightly concerned what was going on quickly noticing Vladimir wasn't around, he ripped the paper and read it, noticing it to be threat.

Armâge,
Did you like the present given wrapped so tight? Inside a creature of the night.
For I am gone or maybe not. Miss me or forget me, or else see yourself rot.
-A Friend.

Syerren stood puzzled by what was written, reading the passage, again trying for it to make sense, he looked down opening his brother's coffin finding it empty. Becoming worried that something happened during the day, he looked away, trying to summon and look for a location, coming back into focus almost instantly as he couldn't trace anything, he glared up upstairs and vanished instantly.

Appearing once again in the hall way he ran around the hall sensing Simon was near. "Simon! Simon where are you?" At last finding him catching up on some reading, he shoved the paper in his face. "What the hell is this? I can't find Vladimir anywhere." Watching as he was reading it then grinning slightly, Syerren sneered, "I swear, if this is some sort of joke you and Vladimir are playing. I want it to stop!"

"My Brother is my friend, my companion, what fun we have, what times we share with childhood
memories and grown-up dreams, Brothers from the beginning, Brothers till the end."

Syerren Armâge

Possessed By Quentin






Smirking at Syerren as he finished reading the note for the second time, Simon handed it back to him. "What, is that some sort of joke between you and Vladimir, do you mean to say?" Simon questioned. "Really clever. You had me plum worried today about Amy's safety after leaving that dead bat in the box downstairs today. Where on earth did you two even find such a creature at last night, much less how did you manage to catch it without destroying it?" He asked, seeing that Syerren remained quiet with a worried look on his face.

"What a minute . . . are you trying to say that the box wasn't from you or Vladimir?" Simon then questioned standing.

"That is what I have tried to imply this whole time, you fool!" Syerren sneered, slamming the piece of paper down on the desk. "Now why don't you start with telling me what you are talking about a box and a dead bat in it!" Syerren continued, feeling a rage erupt inside of him that he hadn't felt in a while.

"Just hold on now." Simon commented, placing a hand on Syerren's shoulder. "I'm sure there is a rational explanation here now. Amy opened a box this morning that was addressed to her. Inside was a dead bat that someone had placed inside. No note or other artifact were inside. We figured it was from someone who wanted to do harm to the family but . . ." Thinking further about the situation, "Where is Vladimir at, anyway?"

Looking away, not believing what he was hearing, not wanting any of it to be true or for it to mean anything, Syerren lowered his head. "He was . . . not there when I awoke," he said, turning back to Simon with tears in his eyes. "You don't honestly think that . . ."

"No. I don't think he is dead; or at least I don't think that bat in the box was him." Simon said, picking the piece of paper up. "The bat in the box appeared to have been dead for some time, possibly even stuffed to stop from further deteriorating. But in any case, I don't think we should tell Amy, not yet anyway," Simon said, looking as then the door opened.

"Tell me what?" Amy questioned, coming upstairs to get something from her room, but hearing Syerren speaking in the library and hoping that Vladimir was awake and inside with him. "Where's Vlad?" She questioned, as both men turned around and stared at her with heavy eyes and hearts. "What are you hiding, Syerren?" She questioned, walking over to him and taking his hands. "I can always tell when you aren't telling me everything," she said, seeing then a note that Simon was holding. "Is that from Vladimir?" she then questioned, grabbing the paper from Simon and quickly reading it.

"Now Amy, before you jump to conclusions, just know that I don't think that the bat in the box was Vladimir," Simon said, as Amy soon looked up from the note and glared at him.

Simon Smith

Leviathan Attack






"What the Hell does this mean?" Amy questioned wading up the paper. "Where it come from? Why now?"
Syerren starting a stutter from being worried spoke, "I . . . I found it, on Vladimir's coffin when I woke; I've tried summoning him but have had little luck. Leaving the library with the rest following, he stared back flinging his cloak around him, "I'm going out to find him; perhaps start at Collinwood. I can't believe for one second he's dead." Opening the door there instantly was Reginald present smiling he nodded to him then left out into the woods.

While having only returned to the Old House in hopes that Simon would help him with slightly more renovation, knowing he had many tools that could easily accomplish the job, Reginald looked out at his Uncle then back to Amy and Simon questioning, "What was that all about?"

"Just an errand he needed to do dear," Amy spoke trying her best to have a straight face in front of her son despite feeling worried about her husband.

"Right, well Simon, I wondered if you could help me over at the Hotel? There's an issue with one of the room's flooring and for the life of me, can't seem to repair it." Looking back to Amy while then also seeing Simon seemed preoccupied, Reginald glared, "Is everything alright? Did I come at a bad time?"



Amy Collins Armâge

Makeup Crew






"No, no, it's not that it is necessarily a bad time, it's just that . . ." Sighing, Simon grabbed Reginald around the shoulders, pulling him inside.  "We just found some rather bizarre gift inside of a silly little box left here for your mother and it has just upset the evening, that's all," Simon said, leading Reg into the drawing room, pouring himself a glass of brandy and then pouring Reginald one too.  

"Oh, did you not like what was inside of the box?  What was it, anyway?" He questioned, smelling the glass of brandy but then quickly sitting it back down on the liquor cabinet.

"What do you know of the box?" Simon then questioned, as Amy had joined them as well.

"Well, just that it originally had gotten delivered last night over at Collinwood, but after seeing that it was addressed to mother, Lauryn and I brought it over and handed it to father last night," Reginald said, looking at both Amy and Simon.  "Why? What's the big deal?"

Simon, looking at Amy, almost having a sigh of relief shared between the both of them, shook his head.  "No big deal.  So, you said Vladimir was the one that sat it down over on the table last night?" He questioned again, as Reginald nodded.  "Yeah, well he must have known it was full of rubbish then!"  Simon smirked.  "Nothing but a piece of sea glass and a note that welcomed your mother back to Collinsport, and to be careful of Widows Hill," Simon said, making something up on the spot.  "Probably just her friend in England trying to trick her, that's all," Simon added, finishing up his glass of brandy, then reaching for his nearby tool belt.

"Now, I'll tell you what; you stay here with your mother and catch up a little or what not, and I'll go over to the hotel and finish up on the flooring in the room we were working in.  When I'm done, I'll come back here and you can go home.  Happy that Reginald agreed, Simon patted him on the back, and then with a nod towards Amy, headed out into the night.

Arriving some yards away in the woods, he focused in on Syerren's whereabouts, summoning him back to Simon's current location.  As he finally appeared, Simon quickly started to disclose the new information that Reginald had exposed.  That Vladimir had been around to personally accept the box last night and that he couldn't have been the bat inside, therefore.  

"Well, regardless of if he is dead or not, Simon, we still don't know where he is or what happened to him," Syerren spoke, still worried about his brother.  "It is very strange that I can't seem to get any connection at all with him.  It is almost like there is a greater power at work here; one that I can't seem to penetrate."

Sighing, knowing that his summoning powers were a skill that he had not used in a long time, Simon tried long and hard to place a maker on Vladimir's location, but shook his head.  "I can't get anything; I'm sorry," he said, hearing suddenly then a rustling of leaves nearby.  Freezing for a moment, he quickly turned, surprised to find Lauryn standing there looking at the pair of them with a flashlight shining brightly at them.

"What are you two talking about out here?" She questioned, having overheard them briefly speaking of summoning powers and someone named Vladimir.  Stepping closer to Simon and Syerren, Lauryn lowered her light, looking up at them.  "I stopped by the Old House but Reginald told me that you were on your way to Collinwood to help with flooring problems.  But he also said that you told him to not leave the Old House until you got back.  Is there a reason?"

"Well, I just figured that he could catch up some with Amy," Simon spoke, shrugging.  

"Right, because having her at the house all day long didn't give him enough time to catch up," Lauryn said, crossing her arms.  "Why don't you tell me what's really up, Simon," Lauryn questioned.  "I know when you aren't telling the truth, and this is one of those times.  

Feeling as though he was pinned up against a tree with this decision to tell or not, Simon groaned.  "Listen.  Dylan here an I have a weird fascination with role playing.  Yeah, dirty habit really.  You see, I pretend like I'm a powerful warlock and he pretends to be a uh, well, a really creepy dead guy, and we come out here and put on skits.  We are just trying to hunt down Richard who is extremely good at this game."

"Right . . ." Lauryn said, shaking her head.  "Totally wasn't born yesterday, Simon," She said, looking at Syerren too.  "Well listen, you can choose to not tell me at all; that's fine.  But do know that you have a lot of people worried sick over what you are doing out here, and you two ought to try and be a little less secretive.

"Yes you're absolutely right my dear." Syerren spoke up knowing Simon was digging himself deeper into trouble. "I apologise for our behavior, but I assure you, you and the family have nothing to worry about. We'll return to the Old House at once and send Reginald home."

Lauryn nodded then proceeded back to the path towards the hotel. Looking back briefly she found the two men had gone. Curious about it, she shrugged then continued along the path.



Simon Smith

Leviathan Attack






Deep in a murky and dark, underground laboratory only used by few in the many centuries, far from any one to notice it, a casket-like wooden box was positioned in the corner of the room with candles surrounding it along with tables set up with books and various experimental equipment.

Vladimir, having only woken after what seemed like being asleep for days slowly started opening his eyes to darkness around him. As he looked around him, getting an idea he was in a coffin, he pushed slowly against the lid then he rose while wondering what occurred last night, having only remembered returning to his coffin for the day. Feeling then extremely light headed he closed his eyes again, putting pressure on his head; Vlad opened them once more seeing he was in an unfamiliar place. "Hello?" he called out, but didn't hear anyone. "Syerren, Amy, Simon?" Tensing, thinking he heard something in the distance, he shifted his body to get out. Only then losing his balance, he toppled to the ground.

"What the devil?" Vladimir cried, trying to recover all the while still feeling lightheaded. Getting a sense of his surroundings then, he then looked to find he wasn't in his normal clothes and was chained to the coffin by his ankles.

Annoyed by who would play this immature game with him, he grabbed on to the chains preparing to break them but saw it was a pulley making a crucifix appear from the wall, stunning him all the while unsure who was doing this and why.

"I would rather spend one life time with you then go on having to face all the ages of this world alone. "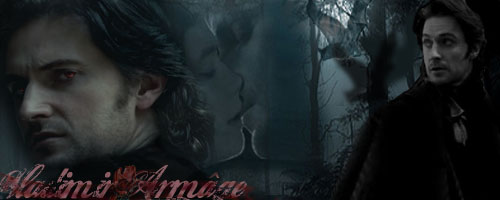 Vladimir Armâge

Possessed By Quentin







Similar topics
---
Permissions in this forum:
You
cannot
reply to topics in this forum