Talking over with his brother after leaving Robert to his evening, Vladimir listened to Syerren question about the man if he could be trusted and shrugged in response. "I don't know he seems to have an honest head on his shoulders but we'll just have to keep watch." Only then remembering why he was here in the first place, Vlad turned around to the building. "I suppose we'd better retrieve Simon, I'm sure by now he's in a right drunken state again." As the two went inside finding the place abandoned with little conversations coming from the drawing room, the two went upstairs and into the room where Simon was staying.

Looking around at the state of the place with bed unmade and clothing scattered around, Vlad noticed a shirt that was his mangled and wrinkled, "Hey what's he doing with my shirts?" smelling the fowl stench of alcohol. Discarding it, Vlad turned as Syerren gestured towards the balcony, where the curtains were drawn. Moving them and peering outside seeing a decrepit man leaning over the railing he sighed, "Why must he do this to himself?"

Opening the door he leaned on the door frame, "Simon, come on everyone wants you home. You've stayed here long enough."
"I would rather spend one life time with you then go on having to face all the ages of this world alone. "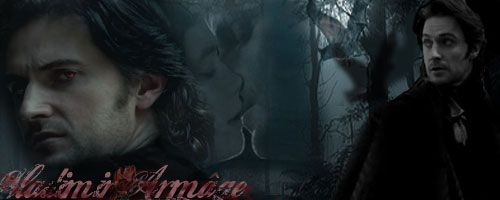 Vladimir Armâge

Possessed By Quentin






"No, no, no; you don't get to say that, Vladimir. Not this time not this time at all," Simon said, turning around unsteadily as he leaned his back side against the railing. "You left me here to die," he said, finishing off a large bottle of wine, then throwing it behind his head out into the dark yard. "My wife had to come retrieve me. We fought." Stepping forward, propping an arm on Vladimir's shoulder as he leaned on him for support, he then grinned slightly as he cocked his head back. "She don't even love me any more mate, and you want to know why? I'll tell you why," he continued, moving past Syerren as he picked up another bottle of wine from the balcony floor, nearly falling forward on his head. "Your son has good wine here. It is very old wine, and it is good. Fancy a taste do you?" He then questioned, gesturing the full bottle towards Vladimir as Vladimir backed away, but not before the burgundy substance spilled onto his white shirt. "Oh never mind that mate; nothing a little hard work couldn't fix," he smirked, then looking back out over the balcony as he quickly downed the bottle of wine. "To love an old fool like me would imply that you would have to love an old fool, and I know of no one who would love such a man. So come one now, get on out of here the pair of you," Simon said, becoming more aggressive now as he threw his arms up towards them. "Get out Vladimir, before I throw your ass down on the cement below."

Simon Smith

Leviathan Attack






Glaring at him after trying his best to get the wine off of him, Vladimir stared at the helpless man then turned back. "Well I figured this would happen. See if there's an unused shirt of Simon lying around." Looking then back at Simon feeling sorry for himself, he grabbed the shirt Syerren found and was prepared to console him but found the man side more towards harsh threats.  Feeling his anger engulf Vlad, glanced back to Syerren tossing him back the shirt and hollered, "What did you say, old man? I'm here to look after you and save something every precious—"

Instantly he felt a tug on his cloak then lost his footing falling, he caught himself seeing the insane drunk try to attack him. "Not this game again," he muttered, manoeuvring around Simon and his punches, he grabbed him shoving him hard to the floor, "I am not your enemy Simon!" leaving him with a kick on the side.

Seeing his discourage brother question, "Was that necessary?"

Looking back at him, Vladimir sighed then shook his head; "Get him inside will you?" while looking out, "then bring him downstairs.  Don't want him to catch frostbite out here."

Grabbing the clean shirt again after Syerren nodded, Vladimir made his way into the nearest bathroom and washed his hands and arms in the sink. Staring then at the empty mirror, he started to feel bad for Simon; however, could sense why he did it. As Vlad finished making himself presentable, he walked out prepared to wait on Syerren to come out with Simon.

Walking downstairs, Vladimir suddenly felt a slight dizziness surround him. Wondering if it was from the brawl or perhaps something else, he leaned against the banister for a minute then shook it off and made his way into the drawing room. Standing by the fire and relaxing for a brief moment, he turned suddenly hearing someone come in. "Evening . . ." knowing to him to be nothing more than a guest.
"I would rather spend one life time with you then go on having to face all the ages of this world alone. "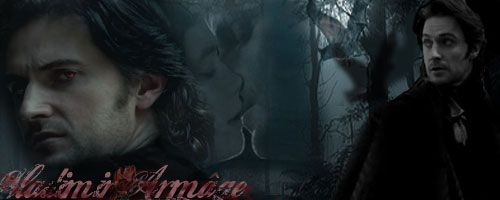 Vladimir Armâge

Possessed By Quentin






Coming downstairs to get away from the closeness he felt from his parents being just down the hallway, Aubrey entered the drawing room, thinking at first that he would be alone. Seeing then a tall, dark haired man with piercing eyes, Aubrey stared at him for a moment, feeling something familiar, but then shook it off as he went over and sat down on the sofa. Leaning forward he placed his elbows on his knees, resting his head in his hands for a moment. "Parents are the worst, you know?" Aubrey said, standing then. "I mean, they send you off to school because the utter thoughts of living another moment with them is too much to bare, but then come here implying that coming back would be okay. That giving up and not making something of yourself is okay. I mean, I guess that would be good parenting if they were good parents and good people, but they aren't, not really." Standing, he sighed. "Sorry, I don't mean to complain or sound like my kid sister." Going over to the fireplace beside of Vladimir, Aubrey picked up an antique, small dagger that was on display in a box.

Aubrey Dawson

Condemned For Witchcraft






"It's quite alright;" Vladimir responded still staring deeply in the fireplace, "I've had issues with my parents too. I'm sure everyone does." Losing focus as Aubrey grabbed the dagger, he instructed, "You best be careful with that, its solid silver handcrafted with gems in the late 19th century; nothing like it in the world." As Aubrey passed it back, to Vladimir he grabbed it and unintentionally sliced his hand in the process.

"Oh my, I am sorry, pulling out his handkerchief and passing it to him. "I did say it was sharp, here." He smiled suddenly catching glimpses of red showing through the cloth.

"I would rather spend one life time with you then go on having to face all the ages of this world alone. "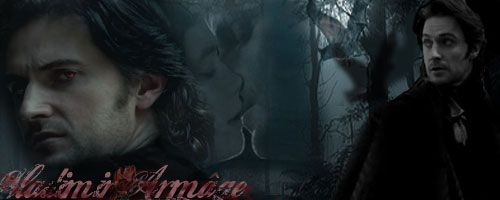 Vladimir Armâge

Possessed By Quentin






Wincing slightly from the deep cut on his hand, Aubrey sat the dagger back on the mantle as he took the handkerchief from Vladimir and held it on his hand. Pulling it away after a few seconds to assess the damage done, he grimaced slightly at the site of blood still pouring out of his hand. "I suppose that this is a bad time to talk about how easily I bleed and how much I don't really get a kick out of seeing blood," Aubrey spoke, feeling slightly flushed in the head as he took a step back. As Vladimir came over to him to assist in any way he could, Aubrey caught a certain glistening in Vladimir's eyes which he was sure that he had seen before. "Hey man; I don't know if you have some weird secret fetish or something, but leave me out of it."

Aubrey Dawson

Condemned For Witchcraft






"What are you talking about, Vladimir protested having his temper rise slightly. "I'm only trying to help you! Why must you resist me?" As he pulled back once more, he felt now more than ever he had to feed. Seeing he had no choice while hating every about him, Vlad rapidly gabbed the boy holding him in place with a strong grip. "I told you I'm here to help you." Focusing on Aubrey's neck prepared to strike.

It wasn't until that moment, when Lisa, Aubrey's mother came stumbling in the room dropping her drink. Releasing Aubrey making him fall to the ground, he glared at Lisa then quickly manoeuvred out of the drawing room then out the door.

Appearing then back in the hotel having remembered about his brother and Simon, Vladimir went to them as Syerren was just coming out with Simon in his arms. "He's not doing well, Brother."

"It's fine, just let's get out of here." collecting Simon's belongings.

"What's going on? What have you been doing?"

"Syerren, I'll explain when we get home just first let's get Simon back!" then went to the balcony and vanished into the night.

"I would rather spend one life time with you then go on having to face all the ages of this world alone. "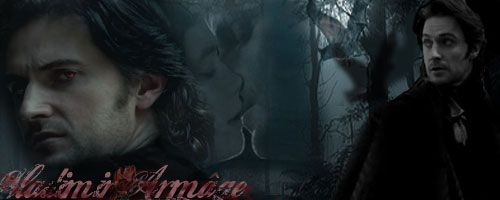 Vladimir Armâge

Possessed By Quentin






Left in utter confusion as to what had transpired before her, but having an inkling of an idea, Lisa went to Aubrey's side as he got himself off of the floor. "What on earth were you doing down here?" She questioned, then looking at his bloody hand, quickly healing the wound as he jerked his hand away from her.

"This place is some sort of vampire lair or something!" Aubrey exclaimed, glaring at his mother. "Looks as though father has found himself some competition; well that is fine with me but not if their going to be feeding on me!" he yelled, as Lisa suddenly made the doors close behind them, then placing her hand over Aubrey's mouth, quieting him.

"Listen to me and listen carefully. What ever hate and anger you have inside of you, throw it out Aubrey, as it is utter hogwash! Your father and I are not here to bring danger or harm your way, and, well, I think it is ridiculous that you think that way."

"Oh save it for someone who actually cares, Mother!" Aubrey exclaimed, as Lisa then slapped him across the face.

"I am still the adult here and until you learn to respect me, you will not talk to me that way!" Lisa sneered back at him. "Now, when your father returns, you need to speak with him about this so that he can go out and deal with who or what ever tried to attack you tonight."

'Very well," Aubrey replied, looking at his mother with the same dislike he had had for many years now. "But don't expect me to talk about much more," he added, then quickly ran out of the room.

Left standing alone in the center of the drawing room, Lisa looked around, then bent, picking up the bloody handkerchief that had belonged to Vladimir. Running her fingers across the engraved "V", she smiled slightly as she held the item up close to her, closing her eyes, getting a clear image of Vladimir clearly in her head, watching as he paced about the foyer of the Old House, shaken by what had been done.

Lisa Williams Drakúla

Arrived By Train






Back home after leaving Simon in his room, Syerren sat and learned of Vladimir's incident with one of the guests. Feeling he was making a big deal out of nothing, he tried still to console him, "Vlad you shouldn't worry yourself over it. It's just a kid. Who's going to believe him anyway?"

"I don't know." Vladimir responded stopping his movement. "I didn't . . . It wasn't my fault, the damn boy and his fiddling with the knife. I could only assume that woman is ranting to Robert about what occurred." He then scoffed, "It would be my luck if that kid was their child!"

Syerren stood putting his hand on his arm, "You mustn't worry yourself Brother. I know that family has gotten to you but what could happen?"

"What could happen?" Vladimir scoffed, "Father's traditions could happen and somehow we'll. . ." he paused then pulled away suddenly feeling a tight pressure on his throat. Coughing repeatedly, he arched forward as his brother came to his side questioning if he was alright then realized he couldn't breathe as he collapsed.

"Just what the hell is going on?" Syerren hollered, loosening Vlad's shirt finding nothing that he could see that would be causing this. "It must be the work of someone." Hearing then Amy come downstairs to see what was going on as she gasped running to her husband's side, Syerren spoke in worry. "I don't know what's going; this happened so suddenly. I do however have an idea who is responsible."

As Syerren carried Vladimir upstairs to Amy's room to rest, he left him in her care telling her to continue massaging his throat hoping to relieve pressure, while he went out to find the person causing it.

Figuring he would start with Robert, Syerren focused on him finding he was alone in a secluded park just outside of town. Travelling with impeccable speed, Syerren appeared behind a tree as the man sat alone.

Going to him, he spoke loudly his name. "Robert Drakúla!" Seeing the man turn, facing him, Syerren glared, "What is happening to Vladimir? He suddenly can't breathe and believe me it's not his fault what happened as you are like us when one requires blood and see it but whatever is going on it has to stop!"

Robert while in the midst of meditating in one of his favourite areas, soon focused on Syerren wondering what he was talking about. "Syerren . . . is it? Exactly what happened? Vladimir can't breathe?"

Annoyed, Syerren grabbed him by the collar, "Yes, and I have reasons to believe Mr. Drakúla that you are responsible!"

"I wouldn't nor couldn't ever do such a thing! You have to believe me. Now would you kindly release me?"
Sensing he was telling the truth, Syerren did as instructed and turned away unsure where to go from there.
"You said something happened with your brother before this took place?" Robert questioned while adjusting himself, "Exactly what occurred?"

Slowly turning back in a glare, he sighed, "From what I gathered he was talking to one of the guests at Collinwood Hotel. He was young teenager and was playing with a knife when the kid cut himself. As you know Vlad became captivated by the blood and well was prepared to attack when there was a woman who he claimed to be your wife witnessing the whole thing. Vlad then fled the scene but swore to me that he didn't harm the boy."

Robert gasped, "Oh God, I have a feeling my wife is responsible for these affects with your brother."

"What?" Syerren questioned becoming slightly hostile again.

"My wife, Lisa is skilled in the Dark Arts; I'd better see to it that this madness stops."

Growing enraged while hating anyone who is out to hurt or bring harm to him or his family, Syerren sneered, "I'll take care of it."

"Syerren, allow me. I have my ways with my wife and the last thing I would want is for you to get hurt merely because of this. Please don't worry; I'll keep you informed and the best thing you could do now is go be with your brother by his side."

Nodding while becoming more emotional, Syerren looked out towards the lake then back, "Okay, but if something were to happen to my brother, I'm holding you responsible!" then departed instantly.

"My Brother is my friend, my companion, what fun we have, what times we share with childhood
memories and grown-up dreams, Brothers from the beginning, Brothers till the end."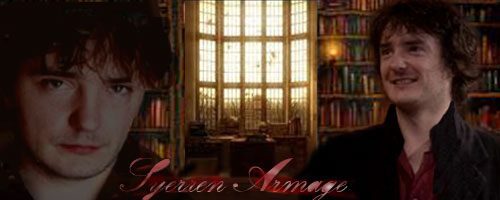 Syerren Armâge

Possessed By Quentin






After receiving word from Syerren that his wife was perhaps responsible for Vladimir's sudden life threatening dilemma, Robert made his way back to the Collinwood Hotel as quickly as possible, appearing inside of their room, catching his wife by the fire. Grabbing her quickly by the neck before she noticed he had even arrived, he planted her firmly against the wall. "What the hell are you doing?" He demanded, his eyes becoming full of rage as she showed little remorse or panic in hers.

"Get your hands off of me!" Lisa yelled back as she pushed back against Robert's force. "I am your wife and you will treat me as such!" she continued, moving closer to him. "What's it to you anyway as to what I am doing?" She then questioned.

"It became my problem when you started trying to kill my own damn half brother, you damn fool!" Robert protested, yelling back at Lisa. "Did you think you would actually get away with it? What the fuck are you doing it for anyway?"

"Just because you don't have the balls to stand up for your family, doesn't mean I won't!" Lisa replied back. "That . . . maniac just about murdered your son in cold blood this evening, and you're defending him?"

Sighing, Robert stepped away from Lisa, going over to the fire and picking up the handkerchief that was dropped in all the commotion, then tossing it into the flames of the fire. "He didn't know that was our son any more than our son knew that he was a vampire. Apparently, Aubrey was being reckless and apparently that provoked Vladimir to react. Now don't get me wrong, dear, I am not defending Vladimir's behavior or saying that Aubrey wasn't partially to blame, but I do know what it is like to be hungry, to be so desperate that you will do anything to get your next fix." Stepping back to Lisa, he placed his hands on her shoulders. "I am glad that you wanted to help out dear, but in the future, just leave this sort of situation to me, especially when it involves one of those brothers or the rest of this family."

Walking then over to his padded black satchel, Robert pulled out two vials of blood, placing them in his coat pocket. "I'll just be over to the Old House for a few minutes to insure that all is well and to try and dust the dirt off of your name. Hopefully, no long term damage was done."

Vanishing and reappearing just outside of the Old House door, he quickly and impatiently knocked, happy that someone came to the door in a timely manner. Being let in by a short, pregnant lady whom he didn't know, Robert was told that Vladimir was upstairs in the first bedroom. Thanking her, Robert ran quickly up the stairs and burst through the bedroom door, happy to see Vladimir sitting up on the edge of the bed with his wife and brother standing bedside of him. As everyone turned with all eyes on him, Robert approached Vladimir slowly, then removing the vials of blood.

"I am extremely sorry for what has occurred here tonight and please know that I have rectified the problem. My wife didn't exactly realize who you were, and I know that you didn't realize that you nearly killed our son in front of her. I understand what happened, and I do hate that it had to come down to that." Outstretching his arm as he gestured for Vladimir to take the blood, he attempted to pull a smile across his face. "I have a whole cellar full, so go ahead, take it," he said. "If you must know, I retired hunting years ago; my wife does mostly all of the work now during the day. She means well you see, you just shouldn't cross her."

Lisa Williams Drakúla

Arrived By Train






As pressure was released from Vladimir and he recovered rapidly, questions filled his head as Syerren discussed all that occurred and reasons to believe that Lisa Drakúla was the one responsible.

Once Robert made his appearance and explained the situation, Vladimir nodded leaning his head back in the bed. "I've had my fair share in battles with conjurers of the Dark Arts and but so long as we don't trouble each other, I see no conflicts in our future."

Seeing the vials of blood remembering he still hadn't satisfied his previous thirst, Vlad licked his lips accepting and stared at it, "so glad to hear you have your undead life working out for you."

Consuming it without a second thought, he took in a deep breath finding the substance satisfying. Feeling he was getting his strength back, he moved and with the help of Amy and Syerren stood. Looking to Robert he approached him. "So that was your son? He's a good kid and I'm sorry for my behavior that led to all of this." Shaking the man's hand, "Let me know if there is anything I or my family might be able to do."

"I would rather spend one life time with you then go on having to face all the ages of this world alone. "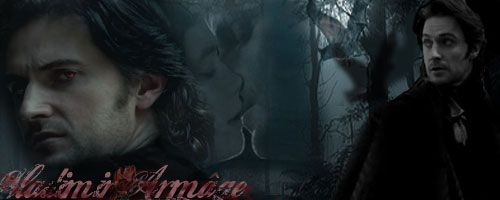 Vladimir Armâge

Possessed By Quentin







---
Permissions in this forum:
You
cannot
reply to topics in this forum