It was around seven in the evening when a knock came upon Aubrey's door.  Looking up from his textbook and glancing at the clock on his table, he then stood, stretching slightly, before heading over to the door.  Prepared to find a housekeeper or other hotel employee, he was a little taken back to find that it was, instead, his parents.

Robert Drakúla, an immortal vampire living the life of a wealthy businessman in England, along with his witch of a wife, Lisa, had put it in there minds that they would come to Collinsport for a few days in order to visit their distant son, Aubrey.  Robert had known at a very young age that Aubrey would be one to stray from the family name and ways.  However, he had always held a special place in his heart and mind for the boy, wanting him to have everything which he did not.  Aubrey's mother, who was normally very outspoken, crude, and occasionally drunk, couldn't ask for much more for her two children, although she, at times, didn't show it.

"Aubrey, my son!" Robert exclaimed, pulling the boy in for a hug, then letting him do the same to his mother.  "So, how is school?  How is the States treating you?"

"Oh, probably just utter chaos and madness, Robert," Lisa quickly replied.  "Are you homesick yet dear?  You know you can always come home and your father and I wouldn't be upset.  There's plenty of opportunities for you at home."

Sighing at his mother's comments, Aubrey looked past them as he answered his father.  "Well, things are often a lot different here but I guess you can say I've gotten used to it over the past few months.  It's not so bad being able to stay here, though the daily commute isn't the greatest."

"Well, that's just fantastic," Robert said, putting a hand on Aubrey's shoulder.  "Perhaps tomorrow you can catch up with your mother, since it's the weekend and all, but tonight, what do you say that just the two of us go out?"

"Well . . . I would say sure, but I do kind of have this big exam I am trying to study for and I would hate to lose time.  Plus, what would we do out anyway?  Not like you can really enjoy yourself out at a restaurant or a bar anyway," Aubrey smirked.

"Aubrey!  Now, that's no way to speak to your father!  He has sacrificed a whole lot having you here; paying for all of this and putting up with your ignorant idea of going to an American school to make yourself look distinguished!"

"Yes mother, and I am sure that you too had to sacrifice the amount of alcohol you ingest.  Budget cuts suck."

"Why, I ought to-"

"Lisa!" Robert exclaimed, catching quick hold of his wife while looking sorrowful towards his son.  "In any case, Aubrey Dawson Drakúla,"

"Just Dawson!" Aubrey quickly corrected.

"As I was saying . . . Your mother and I are staying here for the next five days and are in room 207.  It would be wonderful if you could come and catch up with us.  Despite all the hatred that you have in your body, you are still our son and we are still a family," Robert said, before turning away from the door with his wife.

"The ungrateful little ass!" Lisa soon spat out, shaking her head as she walked down the hall in front of Robert, finding their room and fiddling with the knob until it opened.  "This was all your stupid idea to come here; I told you Rob that the boy didn't care to see us, but no!"

Sighing, Robert stood at the doorway of the room, watching as his wife wasted no time in lighting up a cigarette and pouring herself a glass of complementary brandy.  "I think I'll go get a lay of the land and find a place to rest before day break," Robert then replied, turning and leaving the room.

Aubrey Dawson

Condemned For Witchcraft






Vladimir came down the stairs after talking with Amy while with Cecillia while learning of what occurred earlier that morning. Agreeing he would go have a word with Simon and do everything he could get him back, Vlad left the girls in peace and walked downstairs, seeing room seeing it to be dimly lit. Finding his brother deep in thought, he approached him, he yanked the paper he was working on then spoke aloud, "Well…well my brother writing again I see?"

Only realizing Vlad took his work, Syerren stood, "Vlad give it back!"

"Your deepest love desires?" Vlad questioned, seeing Syerren lunged towards him to get it but blocked him. "No doubt to Cecillia or Ange even."

"Vladimir, give it back; stop reading it!" Jumping for it as Vlad raised it above his head, Syerren annoyed looked away pretending to give up while seeing Vlad lower his hand then rapidly lunged towards him just as he vanished. Cursing under his breath, Syerren turned as his brother appeared once more sitting on top of couch reading more.

As the paper was rapidly snatched back from him, Vlad laughed patting him, "Your poetry is lovely brother. Keep it up." Scuffing from his brother playful behavior Syerren returned the favour shoving him to the couch.

Watching him wander off out of the room, Vladimir laughed again then remembered what he was set out to do. Leaving out into the cold night, he appeared near the entrance to the Hotel only to find door swung open and out came a posh but peculiar gentleman instantly running into each other. Getting though something strange about him, as if they had met before, Vlad shook off his speculations and stood aside to let the man out. "After you sir," seeing he had dropped a glove, he bent down and picked it up. "Best stay warm, it's cold out tonight."

"I would rather spend one life time with you then go on having to face all the ages of this world alone. "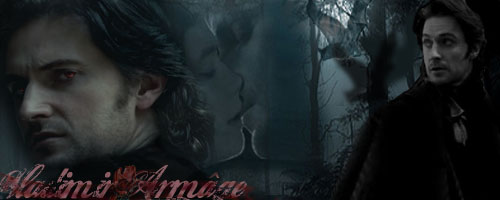 Vladimir Armâge

Possessed By Quentin






"Oh yes, you too sir," Robert replied, then receiving his dropped glove from Vladimir. "Thank you," he then smiled, putting on the glove then reaching out his hand. "Robert Drakúla," he said shaking Vladimir's hand, not picking up on the sudden change of expression on Vladimir's face, having gotten used to people being taken back after hearing his name.

Robert Lucian Drakúla

Condemned For Witchcraft






Vladimir felt his whole body freeze in shock by the last name. "What . . ." he muttered as the man explained his common blank and confused stares he receives. Wondering if he actually heard the man right, he questioned, "What . . . what was your last name again?" As he stated again Drakúla and added spelt with a k, he then turning away from the man, heard the name again wondering how it was possible that someone in this time or this town possessed such a name that was damned by his father.

While Robert felt awkward from Vlad's behavior, he was prepared to continue until he was asked to stop.
Looking back at the man once more, while hearing almost the sound of his father's laughter come to his mind, he narrowed his eyes. "Just a moment; exactly who are you? Why are you here?

Being then questioned of who he was and why he posed these questions on him. Vladimir stood back and lowered his head, "I'm Mr. Richard Armâge, the owner of this hotel is Reginald's Armâge: my son."

"I would rather spend one life time with you then go on having to face all the ages of this world alone. "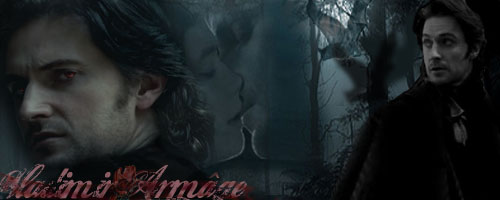 Vladimir Armâge

Possessed By Quentin






"Well, nice to meet you Richard Armâge," Robert spoke, tightening his jacket around him. "Again, my name is Robert Lucian Drakúla. I am here with my wife from London, England visiting my son, Aubrey Drakúla . . . or Dawson as he likes to call himself. He goes to school over in Bangor for a studying abroad program, but your son has allowed him to live here at the hotel for the duration of this years schooling. I take it from your accent that you too are not from here, at least not originally," Robert spoke, getting at last a certain vibe from Vladimir that just wasn't quite right. Hearing then in the distance a dog howl, Robert looked off in the darkness. "Do you have a high wolf population here, Mr Armâge?"

Robert Lucian Drakúla

Condemned For Witchcraft






"Wolves, coyotes much of our woods have an array of wildlife," Vladimir shivered slightly having remembered his quarrels with them then soon focusing back on the man while circling around, "especially at night." Soon getting a clear picture the man was not of human race, Vlad thought it best to act, "I wondered, Mr. Drakúla, if I could spare a moment of your time." Seeing he nodded, "I have a fascination with the ancestry you see, call it a hobby. Yours especially strikes my interest." Now facing the man, Vlad folded his arms, "Tell me, what do you know of a Vladimir Vhon Drakúla?"

Robert stood in place but relaxed. "Why he's . . . he was my . . ."

"Father," Vladimir questioned cocking an eyebrow. "Well might he ever tell you about himself; maybe of his past?"

"I would rather spend one life time with you then go on having to face all the ages of this world alone. "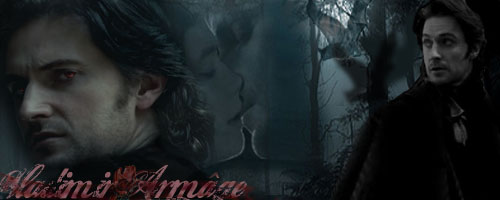 Vladimir Armâge

Possessed By Quentin






"Well now, what's with the third degree here, anyway?" Robert questioned, crossing his arms while remaining calm and firm in his place. "My father talked to me about himself from time to time like any father does to his son, but, before I go telling all to you, Mr Armâge, why don't you tell me a little more about yourself? After all, I like to know who I am divulging my ever so interesting family history to before I actually do it."

Robert Lucian Drakúla

Condemned For Witchcraft






"My life story is not important!" Vlad snapped, turning away.

"Come now," Robert responded, glancing away with a smirk then looking back, seeing he caught something about this man. "No need to be that way; why, I do believe there is something about the Drakúla name that affects you so."

Feeling another shiver run through him by the comment, Vlad whipped around cornering the man then stared downwards grabbing his collar speaking deeply, "You have no idea how much it does"

Robert laughed slightly releasing himself, "You know now that you mentioned it, there was something I remember reading from my father's journal about . . . a previous life: a family he had. I couldn't think it to be true but that was some time ago. You . . . you wouldn't happen to know anything about that family would you now, Brother?"

Hearing the vile words from Robert, Vladimir sneered gesturing, "I will never consider or even accept the idea that you are my brother!"

Robert stared at the man in amazement walking closer to the man examining him. "Good Lord, so the stories are true." He scoffed, "I never thought I would see the day when I would meet—"

Vladimir then turned his head interrupting him, "I said before, Mr. Drakúla, my name is Richard Armâge and nothing more."

Narrowing his eyes he shook his head, "You know somehow I don't believe you. I wager there's something more to you. Something of a secret in which has plagued your life for a very long time. Perhaps," raising a finger, "a curse. And with the curse comes the name, a name that was passed down in Drakúla family quite through the centuries." He then continued in an almost whisper, "The name of every first born son of Drakúla, our father, Lord Vladimir." Seeing little response from Vlad, Robert narrowed his eyes, "The lord had another did he not? One though birth that killed your ever beloved mother? Syerren his name was, was it not? You know Mr. Armâge . . . I think you're the right age even. Something happened to you on your twentieth birthday?"

Unable to take the torment anymore, rapidly Vladimir swung around then pushed the man against the brick wall of Collinwood hoisted him up by his coat and shirt then sneered. "You don't know the half of it! I have been in hell of this retched vampire curse for over 200 years and yet there never seems to be an end and now that crazed Lord continues his tradition and has done it to you!"

Noticing the man didn't respond, Vladimir released him, still in confusion by everything he had learned tonight. Feeling tears form, he lowered his head, "There you know all about my brother and me; however, that leaves you and there's no need to lie to me because I will find out."

"I would rather spend one life time with you then go on having to face all the ages of this world alone. "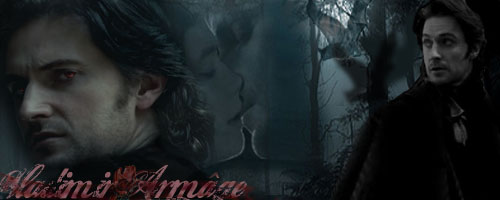 Vladimir Armâge

Possessed By Quentin






Sighing ever so slightly, wishing to not relive the past, especially on a night like tonight, Robert agreed as he took a seat on a nearby bench. "You might as well take a seat too; my story is that of a long one in so short of time." Readjusting slightly and adapting to the wind, Robert began.

"I was born on the fourth of April in the year 1938 to the late Monica Spencer and Lord Vladimir. My mother came from a poor English household and was married to the Lord for many a years until her death in late 1945 from cholera. After her death, I was sent away to an all boys boarding school in England, where I completed at the age of sixteen. Although I was more often then not away at school, I always kept in good contact with my father and we held a pretty good bond. In fact, I never knew of his dark, and long, past until my return home at the age of sixteen. It was then that I had found a journal of his detailing his younger years, the basis of his dark curse, and that he had a previous life and family. I will say that it bothered me a lot at first to find out that I wasn't his first child and that my mother wasn't his first wife. But then, the more I thought about it, the more it seemed pretty interesting to me."

Stopping then to make sure that Vladimir was still listening, find a stern look on his face but little show of interest thus far, Robert continued. My father found out that I had been reading the journal one evening and approached me about it rather rationally. He explained the best he could, answered the questions that I had, and that was it. He had told me that it was a life which he wouldn't wish on his worst enemy and that he was pleased that I was going to make something of my life and not be affected by it. Regretfully though, on my seventeenth birthday while out at a street fair with some of my mates, I was shot in the chest by a stray bullet from a gun fight which had erupted between two men. I was rushed quickly to the nearest hospital where my father was contacted and later informed that I was dead upon arrival. Grief stricken I do believe to this very day, he turned his last and only son that bore his name. I remember waking up and feeling just so very, very cold and so very hungry. My father had brought me back to our home, and it was then and there, that I got to experience this . . . curse for myself."

Stopping again to catch his breath, thinking that in the distance he could hear his name; probably his wife cursing him, Robert looked down at his hands. "I was like a rabid dog without a leash. I had a thirst inside of me that I could never quench. Parties, weddings, and big events were my favorite. It made stalking and luring prey much easier. The newspapers got overwhelmed after a while and eventually stopped printing all of the murders; who could keep count. I know that I couldn't. But then one night in late 1957, that is when I met her. Little did I know that she was just as dark and cursed as I. The love of my life, my Lisa, she saved me. She would provide for me during the day ever so discretely, so that at night, I would no longer have to roam and hunt. We wed soon after, pledging to go through this torturous life together. With a little help from her, we kept up with time and appearances."

Laughing slightly, "You can't exactly be the parent of a seventeen year old if you look seventeen, after all. I have two children, a son, Aubrey, born in 1970 as well as a daughter, Annabella, born in 1975. Unlike my father, and probably even unlike you, Vladimir, my wife and I nurtured our children from the very beginning with the knowledge of who we are. You can spend your whole life hiding from the world, but to spend it hiding from your children, well, that's just inhumane. Our daughter finds it all incredible and a leg up on her girlfriends and the such, but, my son, however, thinks anything but. It is difficult to look into the eyes of a being that you created, knowing that they hate the very air that you breathe. I try so hard to make him appreciate anything I can do for him; which I know that in his own way he does, but I want something more. He's so embarrassed of me especially, that, at the age of eighteen dropped his surname completely. My wife can hardly look at him for all the spite, but she tries. He is a good boy, has a good head on his shoulder. When I look at him, I see who I could have been; I see the man I should have become, not this haphazard beast I became." Stopping, looking then at Vladimir, he crossed his arms. "Does that answer all of your questions, dear half brother?"

Robert Lucian Drakúla

Condemned For Witchcraft






Listening intently to Robert's story finding it unbelievable yet fascinating, Vladimir was taken back once he explained the reasoning of his children in not wanting to continue the traditions like he himself had done with Reginald.

"Yes I suppose it does." Breathing in the cold air then standing. "Pity you didn't see the lord's life 200 years back when Syerren and I were growing up. Nothing short of torture and ridicule from that man; mind you, it could be with the loss of his wife that triggered his ways and his own childhood that could be the reasoning."
Lingering on the thought, Vladimir was still amazed that his father never told of this life he had. While having remembered living in northern England then returning to Romania once or twice a year for petty tasks, he never considered the man to find love again. Turning around facing Robert he questioned, "I would like it to be understood that under no circumstances is my son to know that we are related. He's yet to know of the Drakúla name let alone the supernatural world. I intend to keep it that way, understood?"

Watching as the man nodded, instantly something flew past him, then watched as it perched up on a tree. Examining the creature eyeing it to be his brother, Vladimir gestured him to come.

"Robert Drakúla, I would like you to meet my brother, Syerren Armâge."
While apprehensive appearing to a stranger but trusting his brother, Syerren appeared as himself and stared at the man . . . "Drakúla?"

"Yes Syerren, apparently the lord started another family nearly a century ago. This is our so called half-brother"
Syerren nodded slowly trying to get used to the idea, "And I take it you're a . . ."
Seeing the man nod, Vladimir folded his arms, "Our father wasn't short of stopping the family tradition I see."

"Please know Syerren, Vladimir. I mean no harm to you and your immediate family. I'm just a guest and if there is any way I could provide assistance please don't hesitate to ask. " Glancing at the time he turned around, "I'd better get back; however, you wouldn't happen to know of sufficient resting quarters that I might take residence of for the time being? As you know the hotel wouldn't work and well I would hate to return from England every night.

The brother's looked at each other then back, as Vlad nodded, "Since we share in the same fate and know the anxiety of finding a place to rest, give me some time and I'll take you to a sufficient resting place."

Moving closer to him, Vladimir lowered his tone in an almost whisper, "I must ask one thing while you stay here in Collinsport is that you keep your nose clean. Citizens tend to be suspicious of new arrivals and if something were to start happening, word gets around quickly and soon will come to me and at that point, I'll hold you and your family responsible." Pulling back as he nodded in agreement, Vladimir glanced at Syerren, "Very well, until then Mr. Drakúla."
"I would rather spend one life time with you then go on having to face all the ages of this world alone. "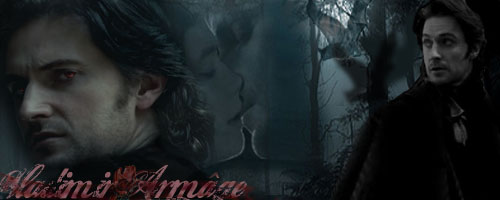 Vladimir Armâge

Possessed By Quentin







Similar topics
---
Permissions in this forum:
You
cannot
reply to topics in this forum