A couple days came and went as it was nearing Reginald and Syerren's birthday. At last deciding for the Armâge family to return to Collinsport and pose as guests to the hotel and then slowly enter back into Reginald's life again.

With a common thunderstorm occurring in town, the three made their way to the gates looking at the mansion in the distance. Vladimir, holding Amy close with Syerren on the other side spoke. "This is it."

"Brother, are you sure it will be safe?" Syerren questioned watching as Vladimir opened the gate
"Of course, we went over it several times. This is the best thing for us to do."

Walking up to the door seeing the sign on the door saying Welcome to the Collinwood Hotel, Vlad, closest knocked then opened the door. "Good evening seeing it to be one of the hired staff at the desk. We called a few days ago about a room, uhh . . ." glances at Syerren then back, "Mr. Richard Smith?"

The man glances at a book then to a couple days, "Oh right . . . you were supposed to arrive the 31st?"

"Yes well we were caught in a previous engagement you understand but please a room will suffice," watching the man check the book and having them sign it then look back at them.

"Right I have one in the corner of the house. Unfortunately that's all. How long will you be staying with us?"
"I'm sure it will do fine, and well our stay is interminable but we will let you know." Vlad commented, glancing at Amy who nodded.

Hesitant at first but giving in and presented the room key once Syerren paid for the week, the clerk glanced behind him seeing Lauryn come followed by Cecillia. "Ah Mrs. Armâge. We've just acquired new guests staying here for a while.

"I would rather spend one life time with you then go on having to face all the ages of this world alone. "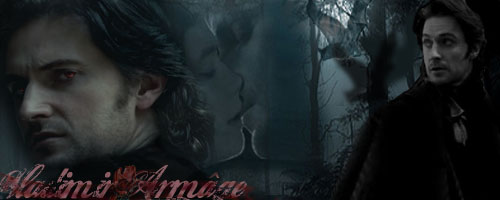 Vladimir Armâge

Possessed By Quentin






Having been at the hotel since earlier in the day, helping Lauryn with odd and in things while Reginald was away purchasing supplies and food for the hotel with their newly acquired funds, Cecillia, who was drinking on a glass of tea at the time, nearly choked as she saw the trio before her. Wanting ever more to just jump up and down and hug them all, she instead had to remain normal, treating them as guests she had never before met.

Lauryn, recognizing Vladimir as the man whom had been over at the Old House just two days before, stared at him for a brief moment, then being filled in on the situation from the desk clerk. "Well, it is so nice for you three to choose us for your stay while here in Collinsport. I am Lauryn Armáge, co-owner of this hotel along with my husband Reginald. I do apologize for the lack of rooms available . . ." she stopped, then being told by the clerk that they were the Smith's whom were supposed to check in on Halloween. "The Smith family. So that would explain seeing you the other evening," Lauryn said, referring to Vladimir. "You must be related to Simon Smith, and of course his wife Cecillia," Lauryn said, pulling her forward.

"No, I can't say as I've met this . . . branch of the Smith family before, but my husband has an extensive ancestry so I am not surprised," Cecillia spoke, smiling as she reached out, shaking Vladimir's hand. "It is a pleasure to meet you."
Ƹ̵̡Ӝ̵̨̄Ʒ
ღஜ
Every inch of you is perfect from the bottom to the top
Ƹ̵̡Ӝ̵̨̄Ʒ
ღஜ

Cecillia Collins Smith

Makeup Crew






"Yes actually I've worked close with your husband in the past and well from what I've heard of this place," shaking Cecillia's and Lauryn's hands before returning to the group, "and I figured why not take the family with." Turning to the guest grabbing the keys Vlad gestured Amy and Syerren upstairs. "Now if you will excuse us. We're rather tired from our journey abroad. Good night."

Entering the room drawing the curtains then turning on a couple desk lamps and a few candles to make it more at home, Vladimir turned to the group, "Well, I suppose now we—" he paused hearing a knock on the door. Opening it cautiously Vladimir grinned, "Why Mrs. Smith. Please do come in."

"I would rather spend one life time with you then go on having to face all the ages of this world alone. "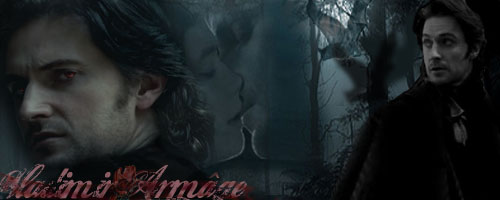 Vladimir Armâge

Possessed By Quentin






"Vladimir!" Cecillia quietly exclaimed after he had shut the door, quickly giving him a hug as well as Syerren and Amy. "You guys are terrible! Couldn't even send me a word that you were planning on showing up tonight? Nearly choked to death and it would have been all your fault Vladimir," Cecillia laughed, shoving him playfully in the shoulder, then turning to Amy, grabbing her hands. "So, do tell me. Are you going to come back and live with us again?" Cecillia questioned, hardly able to keep her voice down from the excitement. "Oh I sure do hope so. It is so lonely around the Old House ever since Reginald and Lauryn turned this place into a hotel. Just me and the old man most nights. Some times our son blows past for a night in off the streets I assume. He . . . has never quite found himself like Reginald has." Sighing, she then placed her hands on her stomach. "Of course . . . pretty soon you can be a God Mother again, if you like," Cecillia grinned. "Funny story how Lauryn and I are both due around the same time. Though at the rate that Simon goes, you would expect this to be our twentieth child," she laughed.

Turning to Syerren then, noticing him to be rather quiet throughout this entire time, she nudged him. "So, what's new? How does it feel to be back? Is it going to be for good?"
Ƹ̵̡Ӝ̵̨̄Ʒ
ღஜ
Every inch of you is perfect from the bottom to the top
Ƹ̵̡Ӝ̵̨̄Ʒ
ღஜ

Cecillia Collins Smith

Makeup Crew






"You know we've missed you and everyone, Cecillia. We just couldn't bear to be apart from the family," Syerren commented accepting another hug from her.

Nodding Vladimir added, "While we enjoyed our stay in England and with Ange of course, we felt it was time to come back; however," becoming slightly stern with Cecillia, "We ask that you keep us a secret and be that we are no more than mere guests.

"Then in the right time," Amy added smiling at her, "we'll open up to the family." Looking around she let out a sigh, "It is good to be back I must say."

Being then asked what they were doing about the daylight and their coffins, Syerren and Vladimir looked at each other then back to her, "For the time being, we'll be staying in our hidden mausoleum in Eagle Hill cemetery while Amy stays here as a guest and you both could catch up." hearing laughter from the girls.


"My Brother is my friend, my companion, what fun we have, what times we share with childhood
memories and grown-up dreams, Brothers from the beginning, Brothers till the end."

Syerren Armâge

Possessed By Quentin






"Well, everything sounds good," Cecillia said, smiling at the thoughts of Amy finally being back, as well as Vlad and Syerren. "I have seriously missed you all just so much," Cecillia added, once more. "Plus I know you can't wait to properly meet and talk to your son; he is quite the remarkable gentleman. It's so nice that he grew up acting so much like his own father, instead of like my own son, despite growing up side by side. Reginald never ceases to surprise me and I know Simon has been very proud of him and his accomplishments over the years. But, that's enough of me rambling on about Reginald; I will leave you three to form your own opinions of him!"

After lingering on for a few more minutes, Cecillia finally said her farewell's for the night, knowing that she had better get back to the Old House before Simon got tired of waiting on her. "I hope to see you tomorrow, Amy," Cecillia said, heading out of the room. "Don't be strangers!"

Some time had passed as the night grew later. Feeling tired and ready for bed, Lauryn headed into the downstairs study where Reginald sat, going over the expenses incurred during the day. "Babe, lets head on to bed. The checkbook will still be here in the morning," Lauryn persuaded, going over to Reginald and wrapping her arms around his shoulders from behind, resting her head against his as she glanced down at the books. "Come on Reg; you shouldn't keep a pregnant woman waiting, especially your pregnant wife," she added, as Reginald agreed.

After turning off a few of the unneeded lights downstairs, Lauryn headed upstairs along beside of Reginald. Approaching their room, they were soon halted by a door opening and a guest stepping out. Stopping, Lauryn then smiled at the familiar face. "Mr Smith? I hope that everything is to your liking with your room? I do apologize that we did not have two rooms available for your family. Oh, by the way, this is my husband, Reginald." Lauryn said, then gestured towards Vladimir. "This is that relative of Simon's who finally arrived today," She then said to Reginald.
Ƹ̵̡Ӝ̵̨̄Ʒ
ღஜ
Every inch of you is perfect from the bottom to the top
Ƹ̵̡Ӝ̵̨̄Ʒ
ღஜ

Cecillia Collins Smith

Makeup Crew






A sudden sensation came over Reginald when he looked up from notepad, staring at the man for a moment he looked away then questioned, "I see well . . . welcome Mr. Smith, I hope you don't find this forward of me but have we met?"

Laughing slightly, Vladimir shrugged, "Perhaps when you are small and visited England; Simon did however tell me all about you and your successful business . . . Mr. Armâge."

Reg nodded, "I see, well good night." then moved away from the man hearing Lauryn call for him by his abrupt rudeness. Going to the end of the hall then looking back seeing it was just Lauryn and the man had disappeared, Reginald narrowed his eyes then closed the door behind him, then soon heard Lauryn come in once again questioning his behavior. He in response sighed deeply and glared, "I'm sorry okay?!" shoving the notebook across the table. "Maybe I'm tired or . . ." he shook his head only then to be pressured by Lauryn to continue. "I . . . I don't know ever since I laid eyes on him, there was something strange about him. Don't you think? I mean Simon never mentioned him before and now they suddenly popup out of nowhere. It's just strange I guess."

"Don't let him get to you Reg; he's no more than the rest of the guests that we have staying here." Lauryn spoke comforting him.

Kissing her then pulling away, Reginald nodded, "I suppose you're right." Still feeling tense about the whole issue, he went to the door. I'm going to get some fresh air. "I won't be long."

As he left out through into the hall, still getting an odd vibe that he's seen the man before, Reginald glanced back at the room he and his family were staying in then looked away continuing through the house.
Making it outside letting out a deep breath Reginald decided to walk the grounds and get away from the hotel life for a moment. Walking along the pathway he soon came up to Widows Hill, the tallest peak overlooking the Atlantic Ocean.

Feeling the cool wind blow against him he closed his eyes hearing the crashing of the waves against the rocks below.

Soon however, he heard a voice behind him calling his name. Quickly turning around in shock nearly losing his balance, he was caught by Simon.

"Life feels complete now; although we continue to live our normal lives, in times, we aren't
that normal. I love it!"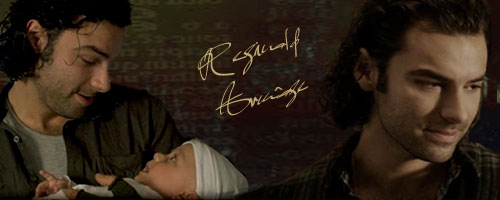 Reginald Collins Armâge

Leviathan Attack






With what started as a normal stroll along the woods soon turned into a mishap as Simon saw Reginald and called out to him then quickly catching his fall.

"That would have been a nasty fall, Reginald." looking down below briefly. "What brings you out here? I would figure you to be in your cosy home with wife and children."

Catching his breath from the excitement, Reg shrugged, "I just couldn't relax. I don't know I had to get out of there.

Seeing Simon nod as he knew the feeling, and guided him down away from the edge, he continued to glare.
"You know I've been meaning to ask you but I guess never had time with the Halloween party and the ceremony for my uncle and birthday business but guests have shown up to the hotel claiming to be of relations to you."

"Relations to me?" he questioned knowing certain he has no one of the sort especially that would claim to be of family. Quickly then moving in front of him, he glared, "Describe him to me."


Simon Smith

Leviathan Attack






"Well I was told he brought his family and well he goes by Richard Smith." He's tall around your height and I don't know he has a peculiar stare that gave me chill. I don't know why but they came so suddenly and—"

"I wouldn't worry about it" Simon laughed, calming the boy. "Richard . . . and his family are harmless and are very friendly too," looking away coming to the conclusion that Vladimir and the family has made the move to be known. "Come on, I'll take you home," gesturing along the path to Collinwood.

After being reassured that Reginald would be okay as Lauryn took over, Simon had matters to attend to. Appearing in the corner of the room Simon glared at Vladimir near the dresser consuming a substance in a vile. Smirking he approached him, "Resorting to drugs now are we?"

"Life feels complete now; although we continue to live our normal lives, in times, we aren't
that normal. I love it!"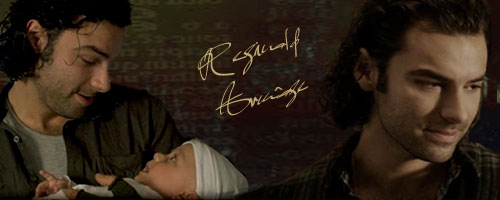 Reginald Collins Armâge

Leviathan Attack






Startled by Simon's abrupt appearance, Vladimir turned putting the vile down glaring, "What are you talking . . . what are you doing here?"

"I could ask you the same question, old man or should I say . . . brother now?" seeing Vladimir turn away from the comment, he continued approaching him from behind, "I thought we agreed we would wait before having you enter Reginald's life."

Vlad scoffed folding his arms, "I couldn't wait much longer Simon; my boy is growing up! I can't keep missing every special moment in his life merely because the blasted idea came to run away."

"You knew there were consequences to running away Vladimir. It was a risk to stay; you had demons far beyond any of us out there tracking you and your family. Honestly, what could you have done?" Lowering his head, Simon smiled, "Nevertheless Mate, it's good to see you."

"Likewise," soon finding a smile and embracing him.




"I would rather spend one life time with you then go on having to face all the ages of this world alone. "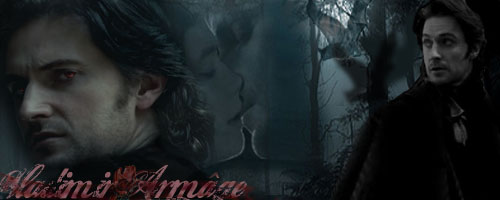 Vladimir Armâge

Possessed By Quentin







Similar topics
---
Permissions in this forum:
You
cannot
reply to topics in this forum