It was a cold, autumn, October day in Collinsport, with Halloween 1994 just two days away. This year had been a rather cold one all along, but the ongoing threat of snow was unexpected and not hoped for, as there was a 'Halloween Bash' underway at the Collinwood Hotel. Reginald and Lauryn Armâge, the young, inexperienced, yet eager owners of the Hotel had hoped that such an event would draw enough attention and bring in some much needed reservations.

Simon and Cecillia Smith, the "legal guardians" for all intents and purposes of Reginald since he was a very young child, had helped the young couple with their infant get on their feet in the Hotel business. It had been Cecillia's idea to consider hosting a party, as it had always been a grand gesture and event long ago when they were hosted by the Collins'.

Just sitting down after going through a large box of party supplies, Cecillia, four months pregnant with her second child, had hopes of catching a much needed nap after the exhausting day. Hearing at that moment a knock at the front door, she laughed in disbelief before standing back up and going over to the door, opening it. "Oh Reginald, I'm actually glad you stopped by; you saved me another trip over to the hotel," Cecillia said with a smile, letting in the tall, slender, handsome young man. "You know, you're already starting to look like you're wearing a Halloween mask with all that black hair in your face and beard you've got going!" Cecillia joked, patting him on the back. "Over here in this box is all those assorted party favors and decorations I had ordered from that store going out of business; they were just delivered here a little earlier."
Ƹ̵̡Ӝ̵̨̄Ʒ
ღஜ
Every inch of you is perfect from the bottom to the top
Ƹ̵̡Ӝ̵̨̄Ʒ
ღஜ

Cecillia Collins Smith

Makeup Crew






"Thank you . . ." Reginald commented digging through what she had got, already feeling excited about the party. Nodding then standing looking down at the woman having always admired Cecillia ever since she and Simon took over looking after him and their son Trevor.

"So exactly who do you expect will be coming? I mean I only know a small handful of people in Collinsport and well." scratching his head, reminding himself that he should better compose himself before the party. "Thanks again for the stuff though, it will definitely help.

Turning his head seeing a book of maps open, he picked it up and skimmed though it only then catching his attention on a name of which the book belonged to: Vladimir. "Hey Cecillia, who's this?" Seeing her turn and take the book from him being told it was no one of importance, Reg shrugged then picked up the box , "Well I'd better get back I suppose. I wouldn't want to have keep Lauryn waiting much longer."

"Life feels complete now; although we continue to live our normal lives, in times, we aren't
that normal. I love it!"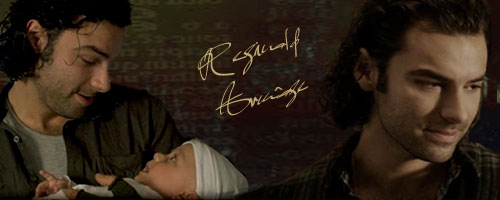 Reginald Collins Armâge

Leviathan Attack






"No, No, you should never keep a pregnant woman waiting, or working, for too long," Cecillia winked, as just then the phone began to ring. Nodding at Reginald as he made his way out with the large box, Cecillia then hurried over to the phone, something that, until the past few years, had never existed in the Old House. Picking it up, she heard a sudden burst of laughter on the other end.

"Hello?" She questioning, then hearing Amy's voice break through all the commotion. Smiling, Cecillia leaned back on the arm of the chair beside of the phone. "Amy, my dear, it's so great to hear from you! What has it been, at least a month now?"
Ƹ̵̡Ӝ̵̨̄Ʒ
ღஜ
Every inch of you is perfect from the bottom to the top
Ƹ̵̡Ӝ̵̨̄Ʒ
ღஜ

Cecillia Collins Smith

Makeup Crew






For nearly twenty years the parents of Reginald Armâge remained hidden in England while living with Amy Armâge's best friend Ange Blair. While cursed of the undead, their chosen path of separating from their son was due to the recent spies in the area prepared to destroy the known Drakúla name. While still eager to have a life with their son, Vladimir and Amy along with Syerren continued making the most of their eternal lives.

In the midst of playing a board game and settling down for the evening as it was several hours ahead of them, Amy now deciding to leave went to the phone and call the family but soon laughed from gestures her husband made. Thrilled to hear Cecillia's voice, she quieted the group after moving into another room to hear her.

"Hello dear, I thought I'd give you a ring. As is you. Things have been going very well, thanks . . . I hope with you too." only screaming by Vladimir's sudden embracement around her waist.

"Sorry it's Vlad. Anyway, yes it has been very slow these past days. Everyone getting ready for the Halloween season here." Listening to her comment about the place and in Collinsport doing the same, Amy looked at Vlad as he mouthed to ask about their son. "Oh Cecillia, how is Reginald doing?"




Amy Collins Armâge

Makeup Crew






Smiling at the phone, glad that Amy seemed to be content with life as it were, she then changed focus as it was her turn to speak again. "Oh Reginald is doing just as well as ever. He was actually just over here picking up some items for a Halloween party he is throwing over at the hotel. You'd never believe how much he looked like Vladimir tonight; I mean, if Vladimir grew a beard and let his hair go a bit," she laughed. "He just turned into such a nice, loving man, and soon to be father to a baby girl in a few more months. I did tell you that Lauryn is expecting a girl, didn't I?" Cecillia questioned, thinking it ever so interesting that she was pregnant with a second child, though a boy, at the same time.
Ƹ̵̡Ӝ̵̨̄Ʒ
ღஜ
Every inch of you is perfect from the bottom to the top
Ƹ̵̡Ӝ̵̨̄Ʒ
ღஜ

Cecillia Collins Smith

Makeup Crew






Enchanted by the thought of Reginald growing up to be the man they always wanted and was in turn being social, Amy soon tensed in surprise to learn of another baby was on the way. "You're joking. Oh Cecillia how wonderful! Gosh I wish we could be there. Hearing her explain more about Lauryn's situation then soon in turn had to get off the phone; Amy nodded and said her goodbyes.

Once off the phone, she looked to Vladimir embracing him. "It's so hard to believe how much we've missed already and now another child." Seeing then Syerren and Ange come in to the den after witnessing her breakdown, Amy hid her emotion from her husband. "I'm sorry everyone. I shouldn't be like this and instead supportive."

"It's not your fault dear." Vladimir commented comforting her wanting just as much to be with the family again.
Examining the couple knowing for several months now everyone talked of if it was time to return to Collinsport, Ange questioned, "What did Cecillia say dear."

"Reginald is doing well and he and Lauryn are in the midst of having another child. It's going to be a girl in the meantime they're planning a Halloween party at the Hotel."

"How exciting; I'm sure everyone will be there and will make the mansion look astonishing."
Letting out a sigh, Amy placed her hand on her head, "I just wish there was a way were there to support them.



Amy Collins Armâge

Makeup Crew






Hanging up the phone just as Simon entered the Old House, Cecillia walked into the foyer to greet her husband. "Did you find them?" She then questioned, watching as Simon, a tall, muscular warlock, pulled out a long, black and red ball gown followed by a black suit and cloak. "We're going as Dracula and his wife!" Cecillia exclaimed, taking the costume dress from Simon and examining it. "Hope it fits," she then stated, looking up at Simon who slid in a pair of plastic fang teeth. "Yeah, you better hope Vladimir never sees you wearing those," she laughed. "I was actually just talking to Amy before you came in. All is well in England for them, but I can tell that she is longing to be back here with everyone, especially her son," Cecillia sighed.

"Yes, well, I'm sure that in due time we will figure out a way to reintroduce her, Vlad, and Syerren back into everyone's lives, my dear. Trust me, I miss Vlad as much as you miss Amy, but we have to continue to act as normally as possible around Reginald, especially around this time of the year with all the holidays and such."

Nodding, agreeing with her husband's wisdom, Cecillia walked back into the drawing room once more. "You don't suppose though that maybe they could just come to observe, but not interfere, this year? It's just so unfair for them to be missing all of these great accomplishments that Reginald and his family are having."

"Cecillia," Simon sighed, walking into the drawing room with her, pouring himself a glass of brandy. "If you don't stop worrying about them, I'm going to ship you off to England to live with them as well!" Simon exclaimed, sitting the glass down and walking over to his wife. "Now, why don't you go try that dress on for size, and then we can have a little fun, Count Dracula style," he smiled, as the two laughed, all worries put aside.
Ƹ̵̡Ӝ̵̨̄Ʒ
ღஜ
Every inch of you is perfect from the bottom to the top
Ƹ̵̡Ӝ̵̨̄Ʒ
ღஜ

Cecillia Collins Smith

Makeup Crew







Similar topics
---
Permissions in this forum:
You
cannot
reply to topics in this forum