A few days passed as the weather soon began showing signs of spring not being far.  With the family much into their own activities, it was planned suddenly that Simon Vladimir, Amy and Cecillia would plan a small trip to eastern Europe to get away from the recent madness with Mildred who still hasn't been seen or heard since her visit.
Upon getting ready Vladimir came downstairs with suitcases, glancing over towards the drawing room seeing Amy settling Reginald in for the night.  Growing concern with Syerren having seen less of him since he became mortal and his growing fancies for Christine,  he spoke while looking down towards the floor. "You haven't heard from Syerren during the day have you dear?"
 
Looking up at him, Amy shrugged, "Very little I'm afraid dear. I did manage to pass on that we were going to London then Eastern Europe for a few days, so I'm sure he'll be fine." Catching only a nod from him with a concern look, the two tensed as there was a sudden knock at the door.
 

Thinking of it only to be Syerren, Vladimir raced to the floor and swung the door open to find Ange Bair. Taking in a deep breathe he spoke, "Ange . . ."

Moving next to him, Amy smiled embracing her friend. "Good to have you come babysit Ange. We would bring him to Collinwood but –"
"I would rather spend one life time with you then go on having to face all the ages of this world alone. "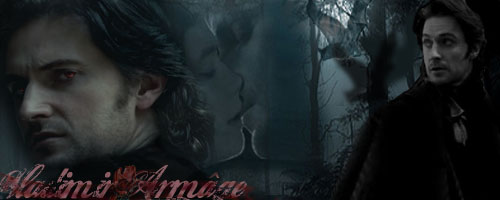 Vladimir Armâge

Possessed By Quentin






"Oh this is perfectly fine dear. Have no worry only happiness on your relaxing holiday." Looking up to Vladimir embracing him, she spoke, "You'll find your spare coffin in the basement of the house Vlad dear and . . ." she paused looking around. "Syerren isn't around?"
 
"I'm afraid he isn't coming and . . . well we haven't told you. Syerren is . . . mortal and well seeing—" Amy spoke glancing up at Vlad as he turned away from the group.
 
"Mortal? You mean human? How is this possible?" Ange spoke putting her things down while glancing at Reginald making sure he was content.
 
"We believe it was done by Mildred Attenbough;" Amy spoke, "however we've yet to see him revert back into a vampire and could feel it would be only time before something happens but I don't know."

Looking to Vladimir seeing he was very concerned for him, Ange thought and spoke, "Well I'll have a look at him and see if I might come to an answer or if anything a cure since obviously Vladimir here still remains the same. Seeing him nod, Ange sighed looking around. "Well best not keep the Smith's waiting in London. They have some plans for you before the nights out so best get over there."
 
After the two said their goodbyes and left, Ange made herself at home while getting Reginald the most pampering, reminding of how she did the same for Amy.
 
A new hour struck on the mantle in the study when Ange woke from a daze from what sounded like laughter and talk coming from the foyer.  Figuring Vladimir and Amy had forgotten something, she went out into the hall then entered finding Syerren caressing and cuddling another woman.  In shock  Ange glared slightly questioning, "What . . . what's going on?"
"Some things you see with your eyes; others, you see with your heart."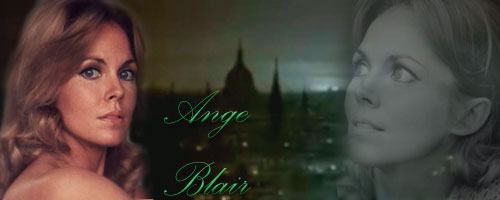 Ange Blair

Cursed By Patofi's Hand






Having spent all day with Christine, sharing music and books to walks on the beach, Syerren thought to take her back to the Old House after learning the family was gone for a few days. However, instantly tensing by Ange's sight, Syerren stood in shock with confusion. "Ange, well I'm just enjoying my night. What . . . what are you—"

"I'm the sitter for Reginald dear that's all." Looking then towards Christine who had a look that this happened before, Ange smiled slightly, "And I'm sorry for my intruding on your night dear. I'm Ange Blair nothing more than a friend, so please don't blame . . . him."
"My Brother is my friend, my companion, what fun we have, what times we share with childhood
memories and grown-up dreams, Brothers from the beginning, Brothers till the end."

Syerren Armâge

Possessed By Quentin






"That's quite alright," Christine smiled. "It's probably getting a little late anyway and I should probably be making my way back to my house . . . busy day tomorrow," she smiled, then turning to Syerren. "You promise to not be late?" she questioned, already knowing the answer as she kissed him on the cheek. "Eight AM sharp . . . you bring the car, I'll bring the coffee," she added with a smirk, turning back to Ange. "And it was nice to meet you and I apologize for running out like this."

Christine Addams

Condemned For Witchcraft






Grinning at her expression followed by a small kiss, Syerren led Christine out the door then looked back seeing Ange was rather in disarray. "Everything alright? She's great isn't she?"

Ange shrugged simply shocked while having never seen Syerren so happy in a long time. "I'm sure she is." Putting pressure on her head Ange questioned, "So you're human . . .  Does she know everything about you?"
 
He stared back at her, "No but she knows enough . . . but my god Ange, everyday has been like a dream since being mortal again. I . . . can't explain it!"

"I understand dear. I'm sure it is quite an enjoyment, however, I should look you over and perhaps we can find out exactly what happened to you." 

"Ange does it matter any more? I don't think anything will happen." Taking in a deep breath, he looked towards the fire place thinking about Christine. "I've longed for someone like her and It's only been a little under a week . . . I've never felt so-" he paused looking down at the side table seeing keys. "My goodness, these must be Christine's.  I hope she hasn't left."
 
Watching as Syerren made his way towards the door, Ange still stunned by everything called out to him, "Syerren wait a minute.  There's something we need to talk—"
 

"Just a minute Ange; I won't be long okay?" Closing the door behind him seeing Christine only managed to make it to the edge of the porch, he ran to her. "Christine! You forgot your keys dear. I don't think you would have gotten far into your house without them," he laughed slightly.
Last edited by Syerren Armâge on 20th June 2014, 12:04; edited 1 time in total
"My Brother is my friend, my companion, what fun we have, what times we share with childhood
memories and grown-up dreams, Brothers from the beginning, Brothers till the end."

Syerren Armâge

Possessed By Quentin






"You're definitely right about that," Christine smiled, accepting the keys and lingering for a bit.  "So, Ange seems nice." She added, continuing, but then glancing back at the door, seeing Ange present.  "I think that she wants to talk to you . . . just a little girly intuition," Christine winked, gesturing towards Ange.  "I am going to get going . . . thank  you again for the keys, Syerren . . ."

Christine Addams

Condemned For Witchcraft






As she once again moved out into the night, Syerren sighed deeply with a boyish grin then looked back at Ange moving back into the house. "You wanted to talk?"
"Yes dear . . . I just want you to know that I, more importantly your brother is worried about you.  You seriously need to be careful when out especially with . . . the girl." 
Glaring slightly catching Ange to be slightly jealous, Syerren scoffed, "She has a name it's Christine and furthermore as I've told Vlad I'm fine," raising his voice slightly. "I don't know why you all are not happy for me instead of worried constantly." 
"We are dear but you must understand that this mortality change in you suddenly happened out of nowhere without any reason and whoever might have done it could easily take it away and everything you hold dear, especially Christine.  All I ask to let me do some blood tests to make sure your vampirism-"  
Rolling his eyes, Syerren glared, "Look Ange, I appreciate and love what you, Vlad, Amy, Cecillia and Simon are trying to do but believe me, it's been nearly a week since the change and nothing has happened. I am not a vampire! 
I don't desire blood, I can be out in the glorious sunlight and I have a reflection what more proof do you need? All the more so, I am happy! I'm sure who or what did this to me had desires of turning me back would have done a long time ago.
"  
Pacing the room for a moment he continued, "Can we just consider it to be a blessing and nothing more. I'm human, the end." Seeing she was prepared to defend herself, Syerren raised his hand. "Just stop, I'm done with this and I'm sorry things didn't work out between us but I've just moved on." Glancing at the time, Syerren turned around and moved to the stairs. I'm going to bed then to Christine's in the morning. Goodnight." 
Watching as Syerren made his way upstairs then hearing his guest room close, Ange felt her heartache. She wondered if she was even talking to the Syerren she met so long ago only to find he has in fact accepted his new found lifestyle and moved on.  Looking up the stairs in near tears she nodded then spoke in a whisper, "Very well." 
~End Scene~
"My Brother is my friend, my companion, what fun we have, what times we share with childhood
memories and grown-up dreams, Brothers from the beginning, Brothers till the end."

Syerren Armâge

Possessed By Quentin







Similar topics
---
Permissions in this forum:
You
cannot
reply to topics in this forum