Waking up to a sound of barking, Christine soon came to realize that she and Syerren had fallen asleep while watching the television.  Glancing across the room, seeing that it was a quarter past eight, she felt a chill run through her body, unable to believe that she'd actually slept that long.  Stretching, she stood, glancing at Syerren who still lay sound asleep.  Smiling slightly, she started towards the kitchen, but then stopped near the front door, thinking she had seen something moving.  Going towards it slowly, a figure and a pair of eyes suddenly appeared at the window, causing her to scream.

Christine Addams

Condemned For Witchcraft






While sleeping in an awkward position, Syerren suddenly jolted from his position as he heard Christine scream. Approaching her wondering the cause, he questioned, "What's wrong?" As she spoke of someone peering from the window, he too only realized what time it was, "Oh God how did it get so late?" Putting his attention back on Christine's problem, Syerren went to investigate then opened the door prepared for anything then suddenly tensed seeing his brother. "Vla . . . Richard what are you doing here?"

"To find you Brother; Simon said you were out all day and . . ." Vladimir responded then glared at his apparel. "What the devil are you wearing?"

Syerren felt his clothes only remembering the sweats Christine lent him. "Well it's rather a long story involving a rainstorm today but . . ." he paused as Christine came from behind him. "Christine you remember my brother, Richard." He smirked back towards Vlad, "She claims you gave her rather a fright."

Vladimir drew back slightly, "I see. Well I do apologise dear lady; I wasn't sure anyone was in but had thought he would be here."

"My Brother is my friend, my companion, what fun we have, what times we share with childhood
memories and grown-up dreams, Brothers from the beginning, Brothers till the end."

Syerren Armâge

Possessed By Quentin






"I'm afraid he's only here this late because of me," she spoke. "We must have fallen asleep after I suggested we watch a movie together earlier," she said. "I'll go get your clothes so that you can get dressed," Christine added, then ran away from the door to the laundry room, only then remembering that the clothes hadn't been put in the dryer. Sighing, she then came back to the front room where Vlad and Syerren stood. "I'm sorry, but we fell asleep before your clothes were put in the dryer, so they are still wet . . . but you're more than welcome to wear my clothes and just bring them back later," she smiled.

Christine Addams

Condemned For Witchcraft






"Fallen asleep you say?" Vladimir questioned giving a stared to Syerren while crossing his arms. "It seems you two had an eventful day."

Syerren slightly embarrassed by the whole affair, shrugged, "Yeah it was good and thank you Christine for the clothes," and moved in kissing her cheek. Feeling that this was it for the night and was fixing to follow his brother out, he suddenly stopped. "Wait a moment, the piano!" Sensing him stop then glared back at him, Syerren turned back towards Vlad, "Brother we need your help in getting a piano back here tonight."

"A piano?" Vladimir questioned.

Syerren nodded smiling back at Christine, "Yes, I purchased a piano for Christine to replace her old one that was stolen and I promised her and the shop keeper to get it her tonight and that you would help because you have transport that could do the job."

Sighing deeply, Vladimir felt a lost of words staring at Syerren then glanced at Christine, "Very well."

Turning fully around to Christine, Syerren smiled down at her, "See, everything will work out fine."

"I would rather spend one life time with you then go on having to face all the ages of this world alone. "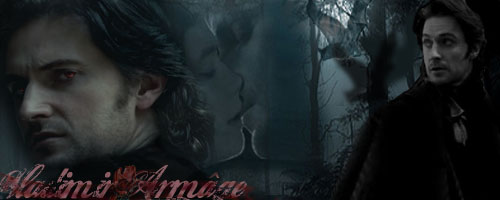 Vladimir Armâge

Possessed By Quentin






"Thank you, you're the best!" Christine smiled, giving him a hug and then going to Vladimir. "And thank you too. I can tell that you are a bit annoyed with me, but I must say that I am glad that you still agree to help me out in a time like this," she smiled. "It's nice to meet nice guys like you two . . . sure beats all the guys I've known in the past . . ."

Christine Addams

Condemned For Witchcraft






"Well we do try Christine . . ." Syerren smiled then glanced towards Vladimir. "Anyway let's go and fetch the piano. It shouldn't take us that long." Seeing she was thrilled by it. Syerren turned and led the way through the door with a smirk then breathed in the night air. Looking back behind him seeing his brother, he went to him. "You don't mind doing this, do you Vlad?"

Staring at Syerren having not seen him this love crazed for a lady in a while, Vladimir shrugged, "Why not. I trust you made arrangements with the shop?" As Syerren nodded beginning to lead the way, he walked beside him and glanced back at the house. "So you have quite a thing for that girl haven't you?"

Suddenly stopping Syerren looked up to him, "Yeah . . . she's alright and all but then I am rather old. . ."

Vladimir scoffed, interrupting him, "Oh come off it," wrapping an arm around him. "Thats nonesense! You don't look a day over twenty." Laughing slightly, Vlad continued, "I'm not upset Syerr; I'm thrilled you have found someone; however, just keep in mind what you might say to her and well . . ."

Not at all expecting such support from Vladimir then remembering being told he would support whomever he chose to have a relationship with, Syerren smiled, "Yeah of course . . . thanks Brother."

As the two came up to the music shop where Syerren purchased the piano, Syerren led the way seeing lights still on while happy to find the owner still here. "Ah . . . at last he came," the man spoke.

"I'm sorry for the delay," Syerren spoke up, "but we'll take care of it now." The man stared at him then looked out not seeing a truck or anything, "Do you have transport?"

Vlad then interrupted speaking for Syerren, "Yeah it's just across the way. I'm sure we'll manage." Getting a sceptical look from the man, as he went to the back, Vlad turned to Syerren "Right that got rid of him, where is it?" Syerren gestured towards the piano watching his brother come examine it. "Quite a treasure you have found Syerr."

Syerren smiled, "Yeah . . . I just know it'll look great in Christine's house." Staring at it as Vladimir began putting the top frame downwards, he glanced towards the door, "How . . . exactly are we getting this out of here," sensing already that it could barely fit through the door as is.

"My Brother is my friend, my companion, what fun we have, what times we share with childhood
memories and grown-up dreams, Brothers from the beginning, Brothers till the end."

Syerren Armâge

Possessed By Quentin






"I'm sure we'll manage," Vladimir spoke then grabbed a hold of the piano lifting it above him.
"Oh my God Vladimir, be careful! We don't want it to break," Syerren cautioned becoming nervous that the store owner would come back and freak out from seeing how one extraordinary strong man was able to lift the large piano.

Managing to get a good grip of it Vladimir turned his head glancing back at Syerren then spoke "Nonsense, you must remember who you're talking to. Now get the stool, will you?" Seeing it was behind him, he nodded "Yeah okay. Do you need help?"

Smirking towards him, Vlad looked to the door then instantly vanished and appeared outside placing the piano down on the sidewalk. Being slightly envious of his brother's talents, Syerren shook it off remembering also the downsides that came with it. Tensing then as the shopkeeper came giving him a look of surprise that the two managed to take the piano out, Syerren smiled in his direction leaving him with some money for his trouble then nodded while picking up the stool leaving him baffled.

Joining his brother, Syerren sighed putting the stool on top then glared at Vladimir, "That was a close one." nudging him slightly. "Well we best get this back to your fair lady." Seeing he blushed, Vlad laughed slightly, while lifting one end of the piano and taking most of the weight as Syerren grabbed the other and made their way back to Christine's house.

~End Scene~



"I would rather spend one life time with you then go on having to face all the ages of this world alone. "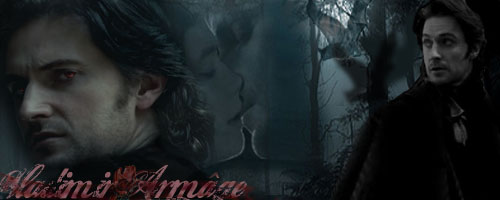 Vladimir Armâge

Possessed By Quentin







Similar topics
---
Permissions in this forum:
You
cannot
reply to topics in this forum