Time past on as night soon fell. Waking from his death slumber, Vladimir rose from his coffin. Not seeing sight of his brother, he opened Syerren's coffin, finding it empty. Curious if he just awoke before him, Vlad made his way upstairs surprised in hearing laughter come from the room. Recognizing one of the laughter to be Syerren, he shrugged and came through the door approaching the group. "Evening everyone."

Syerren, having been talking over the wonderful time the family had and his shared experiences earlier in the day, instantly tensing from Vladimir's presence that it was nightfall already hoping that everyone would remember to keep his existence during the day a secret, Syerren looked back with a grin. "Good evening brother; the family was just telling me . . . the fun day they had at the beach."

"Is that so? Well good thing we weren't completely missed." Vladimir spoke patting his shoulder. "On the contrary dear," Amy spoke up going to him, "You . . . and Syerren were missed and would have loved to have you." Smiling then kissing her, he looked around that the rest of the group, "Good, so what plans do we have today then?"
"I would rather spend one life time with you then go on having to face all the ages of this world alone. "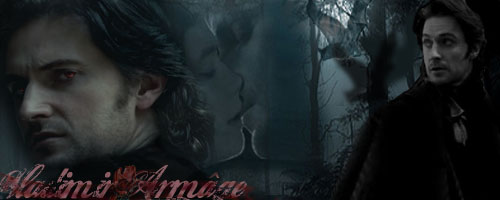 Vladimir Armâge

Possessed By Quentin






"I'm not sure about everybody else, but I'm not sure if I can manage to do anything else tonight or not; I must say that I am sunburned and tired after the long day we had," he smiled, looking across the room at Vladimir. "Sorry to disappoint you mate; afraid that at least one of us here have fallen so deeply into mortal ways, that just the look of night in the sky causes the fatigue to set in."

Hearing then out of random a knock at the front door, Simon sighed, figuring since he was closest that he would go and get it. Swinging the door open without giving much thought to first being cautious of who it might have been, he remained frozen by the figure on the other side.

"Mildred . . .?" He finally spoke, grinning slightly by the look of her. "What are you doing here?" He questioned, feeling as though he was suspended in time and space. "I'm not sure that Vladimir will be very happy . . ." he murmured.

"That's okay, I'm not here for him or any one else; I'm here for you," Mildred smiled, then stepping closer looked around Simon's arm to see Vladimir and Syerren peeking around the corner. "So can I come in?" she spoke, looking back to Simon. "Or have you forgotten the manners you used to have.

"No, of course not, come in," he smiled, stepping aside as Mildred entered, then closing the door behind her. "So tell me again why you came," he questioned. "Because I think I mistook you before when you said you were here for me . . ."

"You heard me right," Mildred smiled, brushing Simon's arm. "Can't an old friend come and visit? Or have you even forgot that we used to be very, very close." Turning around, then rolling her eyes, she looked towards everyone staring at her. "What? Is it such a big shock that I'm not here to pester any of you?"

Simon Smith

Leviathan Attack






"Yeah, I'm sure that's exactly what you want us to believe. Miss. Mildred out to make another proposition, no doubt. Well you can forget it!" Vladimir spoke feeling his anger towards the woman engulf him. "Now, whatever business you might have with Simon, I'm sure," glaring towards the man wondering exactly what became over him but stared back at the woman, "he won't be interested so you best leave this house." Turning then away while leaving him sick of looking at her, Vladimir stared back at the women still in shock of what the woman wanted with Simon. Wondering then too of the whole situation, Vlad turned back surprised to find they were gone. "Where are they?" Seeing Syerren shrug, he scoffed, "Stay with the women, I'll be back." Vanishing from the room then tracking down Simon almost instantly, Vlad appeared on the side of the house at the two. "Just what is going on here?"
"I would rather spend one life time with you then go on having to face all the ages of this world alone. "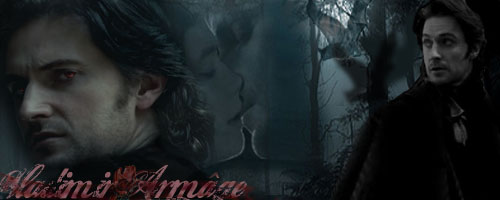 Vladimir Armâge

Possessed By Quentin






"What does it matter to you what business we have together?" Mildred questioned, glaring at Vladimir. "I came here for Simon and now we are together and talking; we don't require any assistance from you, Vladimir. So now, if you would kindly go back inside to your family and leave us alone, that would be most certainly welcome." Turning to look at Simon, she continued. "That is unless Mr. Smith would rather retreat back inside with you?" she questioned with a certain glimmer in her eyes. "No, no I'm alright I think," he spoke, glancing to Vladimir. "I'll be inside in a moment mate."

Mildred Attenburgh

Cursed By Patofi's Hand






Finding something strange going on between the two knowing Mildred never appearing without a purpose on her mind, Vladimir snared glaring at the two then stared at Simon, "Don't take long." Disappearing before them then appearing back on the front porch, Vlad glared back towards where they were not liking at all what was taking place while knowing only Mildred Attenburgh was never a woman to be trusted. Sighing deeply he entered through the house, seeing his brother talking with Amy and Cecillia. "Well . . . what's going on out there Brother?" Syerren asked. Shrugging, Vladimir ran his hand through his hair "I don't know, but I trust Simon and he should know what Mildred is capable of." Settling down again, it wasn't a moment later when the door opened. Rising from the couch again, prepared for anything, Vlad questioned seeing Cecillia do the same in worry, "Well . . . what did that witch want?"
"I would rather spend one life time with you then go on having to face all the ages of this world alone. "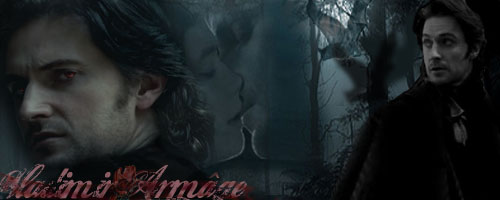 Vladimir Armâge

Possessed By Quentin






"She just wanted to talk," Simon spoke, lingering by the door. "And I told her that we could do such, just not here." Glancing over at Cecillia, he then continued straightening himself. "I'm going down town to the diner for a bit, it shouldn't be too long," he said, then turned, going back out the door before anyone, especially Vladimir, could stop him.

~End Scene~

Simon Smith

Leviathan Attack







Similar topics
---
Permissions in this forum:
You
cannot
reply to topics in this forum