Pacing the drawing room while his head was filled everything going on, Jacob Collins a close cousin to Joshua Collins partook in minding the house, the successful business and finances of the family while his cousin's were away on business. Waiting for his children to return with picking up his wife, he cast his eyes on their young servant Ben Stokes walking in. "Any news Stokes from my wife?" Halting in place the large man glared shaking his head, "No not yet . . ."

Dismissing him, Jacob walked towards the desk flipping through papers then finding a letter from his cousin just leaving New York. After re-reading it, he looked up hearing the door open knowing it must be Rachel and the children. Gasping by her sight, as she came in with a gorgeous dress and hat, Jacob moved past Matthew and Mary without so much as nod then kissed Rachel's hand and embraced her. "Oh my love how I missed you."

"If you want something...Take It!"

Peter Bestat

Condemned For Witchcraft






Arriving back to the great Collins estate she had missed so very much, as well as all those who resided in it whom she cared for so dearly, Rachel, after being helped down by Vladimir, hurried away towards the house, feeling Cecillia and Vladimir on her heals. Entering the house first, she was met with Jacob. Holding him for a bit longer than usual, Rachel stepped away, beaming up into his happy eyes. "Oh am I ever so glad to be back home with you and the children," she spoke, holding on to Jacob's arms. "I don't think I could ever again stay away for that long."

Turning then to her children, Rachel smiled; "I'm so glad all of you look so well." Seeing Vlad and Cecillia merely remain in place, barely reacting to anything, Rachel looked at them, now more worried. "Is everything alright with the two of you? You have been quite quiet since I've been back . . . though I suppose it's just that you don't know what to say," Rachel laughed slightly, feeling Jacob's arm around her.

Mildred Attenburgh

Cursed By Patofi's Hand






Entering through the house, seeing instantly a sudden in the man, Cecillia and him met first, Vladimir remained uncomfortable with the whole situation wanting to just hide away from it all. Now getting noticed by the parents, he looked up to them, as they questioned his and Cecillia's behaviour. "Well . . . mother we really are just . . . over excited about your arrival and left us speechless but in any event welcome home." Unsure whether they bought it, Vlad nodded slightly then moved passed them into the drawing room.

Not buying his son's claim at all, Jacob, exclaimed, "Just a minute Matthew!" Stopping abruptly tensing he turned as Jacob came to him, "A word with you son." then gestured to the next room. Glaring at him then looking back seeing Cecillia in near fear gazed back, "Very well, Father." Entering the hall then leading to the study, Vladimir remained tense in being alone in the room having a fear of saying something wrong then looked up to the man unsure what he had in mind.

"I would rather spend one life time with you then go on having to face all the ages of this world alone. "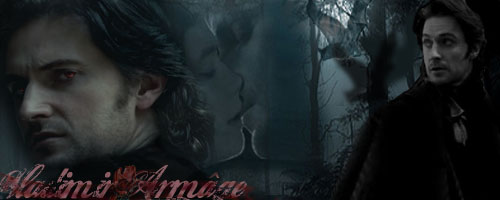 Vladimir Armâge

Possessed By Quentin






Gazing down at his son, Jacob smiled slightly coming closer to him, "Son, being a Collins, I know you have a lot of pride in the family; however, I know being here in this house day in and out isn't what you had in mind." Glaring at him, Vlad shrugged, "I don't follow Father." Patting Vlad's shoulder, then adjusting his waist coat then hair, he nodded, "Well it's probably time you did something to promote your future in the family Matthew being in your twenties now and I'm of need of you to go to the central building office in Bangor. There they'll have a parcel for our cousin Joshua."

"If you want something...Take It!"

Peter Bestat

Condemned For Witchcraft






Stunned by the idea, Vladimir looked away, "You want me to go to Bangor but . . ." "Now son this is your chance to prove to your cousins living here that we have every right to live in Collinsport as they do." Turning away towards the door, Jacob looked out, "I want you to pack an over night bag and take one of the horses in the stable. It'll be a long journey for you but a good one." Shaking his head, not knowing what to think, Vlad glared and what of my . . . sister?" "What do you mean?" Scuffing, Vlad approached him, "I want my sister with me." "What, a woman isn't fit for such a task Matthew." Glaring he shook his head, "I don't care! She's just as much as a Collins as I am so she is coming with me!"

Never seen his son stand up to him like this before, Jacob, glared at him nodding slightly rubbing his chin, "Very well Matthew take Mary with you but I expect you two back no later then two days." Moving past him he nodded, leaving through the door, "As you wish . . . Father."

Vladimir moved back into the drawing room happy in seeing Cecillia on the couch, quickly grabbing her, then bringing her upstairs. Hoping not to run into their posed parents, he quickly made it to his bed chamber then locked the door. "Cecillia we have a problem . . . that man whom I've talked with has ordered me to leave Collinsport on an errand to Bangor; apparently we have a parcel waiting there to our fellow cousins." Moving past her towards the window he leered back, "I don't know what it is but I feel if we accomplish this, it will get us back to our time."

Last edited by Vladimir Armâge on 8th August 2011, 22:55; edited 2 times in total
"I would rather spend one life time with you then go on having to face all the ages of this world alone. "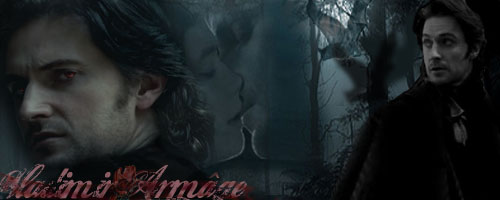 Vladimir Armâge

Possessed By Quentin






Hoping that what Vladimir had discovered the two must do really would get them back to their time, Cecillia smiled, considering the idea. "I can't imagine what you must have had to say in order to convince that man to let me go too; I might not know anything much about this time, but I do know that that surely isn't customary for a girl to participate in." Going towards the door, Cecillia turned back to Vladimir; "okay, I guess I'm to go pack a few things and meet you back here in a bit." Seeing Vladimir nod, Cecillia sighed, walking out of the door but stopping. "Oh and Vladimir . . . thanks for not leaving me here."

~End Scene~
Ƹ̵̡Ӝ̵̨̄Ʒ
ღஜ
Every inch of you is perfect from the bottom to the top
Ƹ̵̡Ӝ̵̨̄Ʒ
ღஜ

Cecillia Collins Smith

Makeup Crew







Similar topics
---
Permissions in this forum:
You
cannot
reply to topics in this forum