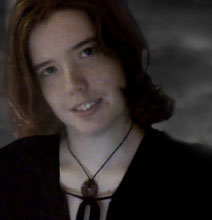 -THE CREATOR-
Alias: Amy Collins
Age: 221
How did you find us: One thinks I found you.
Extra Facts: : Ehmm… hmm where to begin. I am Amy, from London England; I have RPG for 3 years and an admin for one of them. I love every minute of it. I enjoy singing/acting and combat training.
Contact: PM works best
-THE CHARACTER FACTS-
Full Name: Amy du Prés Collins
Nickname:Amy
Custom Title: Little Lady of Collinsport
Age: 220
Gender: Female
Social Status: Cursed Vampire
Occupation: Simple woman with a complexing life.
Relationship Status: Complicated relationship with Vladimir Armâge
-THE IMAGE (Present)-
Portrayed By: Myself
Appearance: Amy is a tall paled skined woman with short curly, red, auburn hair and dark brown eyes. She portraise much characteristics of her Mother and Father.
Clothing Style: She tends to fit the era of what people generally wear in the era she is in. In present time, one would find herself with a plain simple dark dress. Generally doing her best not to stand out. In the 18th century as a young girl, she was dressed in simple dresses that her mother and aunt picked out for her.
Height: 5'11"
-THE PAST-
Birthplace: Scooner coming to America
Date of Birth: 14th April 1789
Date of Death: 23rd April 1796
Family: Born unexpectedly to the wealthy Collins Family in the 18th century. She lived with her family in Collinsport Maine. Her parents were Barnabas Collins and Joesette du Prés. She became close with her aunt Sarah who was roughly her age and with her great-uncle Jerimiah as well. Much sorrow and death occured in her family and much in which revolved around her parents.
History:In her young life in the 18th century, she spent most of her time with her family having lessions with her Governess. During the 18th Century, Her father came down with a strange disease and passed away shortly afterwords. At that time Amy came down with a same disease dying instantly. Rising again as one of the living dead, she witnessed the death of her mother comitting suicide by jumping off of Widows Hill. Amy was later staked by Angélique, a witch who put the curse on her. This ended her life in the 18th Century. 200 years later born again to vow her vengence against the witch.
-THE PERSON-
Personality: Amy is a kind individual with the mind of doing the right thing. She cares much for her family and people she is most in contact with. She doesn't show much social relationship outside her family except for her close suitor named Vlad who she held dear to for centuries. Though being a vampire, she rarely expresses or uses the values of one unless there was no alternative.
Likes: Walk around the woods, communicating with individuals as well as spending time with her family.
Dislikes: Individuals who see fit to destory the Collins Family.
Overall Flaws: Hmm non that I can think of.

Ideal Weapon:Vampireque weapons?
~
RPG Sample: My name is Amy du Prés Collins,
My life is about to intertwine with my past and present life.
I have left my present life in south of England in hopes to rejoin my relatives in Collinsport Maine. News of a relative from England named Barnabas Collins has not to long ago been dwelling there now. This in all inspires me to come to Collinsport as well.
I am now on a train to Collinsport. A long day of travelling it has been. I have been looking over the family history to see who has been living at the Collins Estates. I figured it best to introduce myself is say I am a cousin. While sitting in a private coach watching the world pass by, thoughts are going through my head in thinking will he remember me? I haven't been to Collinsport since well my previous life. So long ago.
The train at last began to slow down. I open the curtain a bit and realized it was Collinsport. At last I am home, I thought. As I got my things together, I realized it was dark, and I was wearing sunglasses the ones Ange my dear friend made for me. When I took them off I saw a rather familiar atmosphere. I then went to the Collinsport Inn which I stayed for the remainder of the evening
Last edited by Amy Collins Armâge on 26th October 2010, 18:12; edited 4 times in total

Amy Collins Armâge

Makeup Crew






-THE CHARACTER FACTS-
Full Name: Amy Collins Armâge
Nickname:Amy
Custom Title: Little Lady of Collinsport
Age: 221
Gender: Female
Social Status: Cursed Vampire
Occupation: Simple woman with a complexing life managing housing affairs.
Relationship Status: Married to Vladimir Armâge
RPG Sample: Looking down, he realizing he wasn't much company towards the guests but his attitude changed as he saw his new wife approach him glad to see he was back. "Are you alright Vlad?" Amy asked. Vlad grinned, "Yes everything is fine love," kissing her. He looked around seeing there was slight cleaning up occurring. Figuring they should go into the foyer to talk privately, Vlad looked at her concerned sighing, "Amy I'm sorry for departing like that, I…I…" Amy silenced him smiling. "I understand and everything is fine. Syerren managed to make an excuse for your absence." Vlad sighed in relief, then kissed her...
<3 Vladimir and Amy<3 Free from Their Torment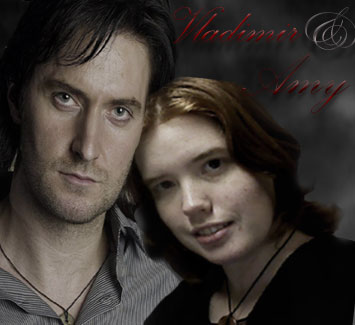 Amy Collins Armâge

Makeup Crew







Similar topics
---
Permissions in this forum:
You
cannot
reply to topics in this forum